Songwriting Retreat with Reg Meuross & Katie Spencer
January 31 @ 4:00 pm

-

February 4 @ 4:00 pm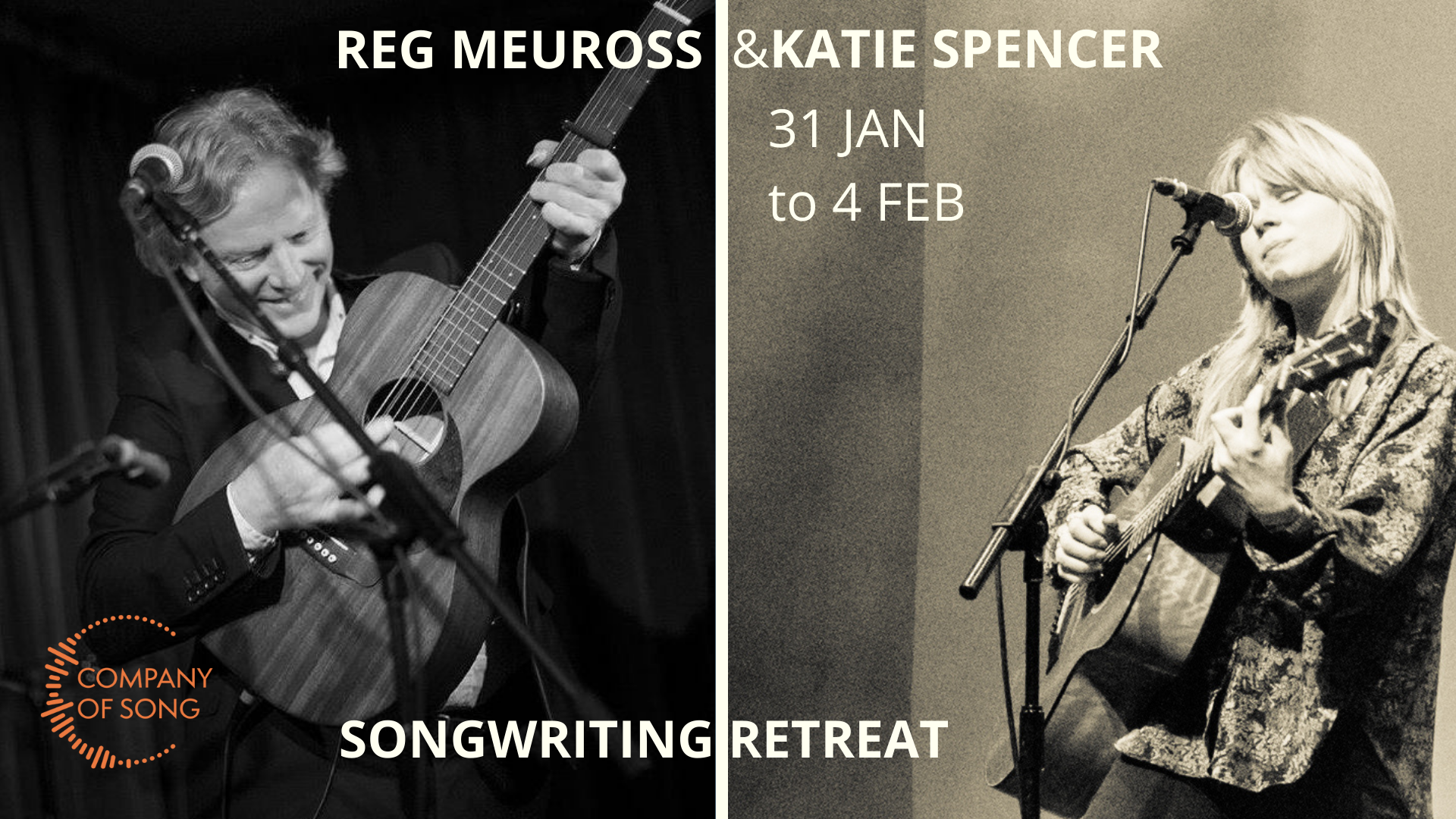 Reg Meuross is delighted to be returning to Halsway to run another songwriting retreat. Fees include workshops, small group song clinics, full board and accommodation. We will follow all Covid-19 safe guidelines as appropriate at the time (Halsway Manor are experts in this now) and if in the unlikely event we have to cancel the event, you will be given a full refund.
Reg will be joined by very special guest, singer-songwriter and guitarist from Yorkshire, Katie Spencer who writes songs imbued with the Northern landscapes of her home. Originally from Hull, East Yorkshire, the grainy imagery of the industrial docks and sea-fronts seep into her deeply personal songs of nostalgia, loss and love. The music, and most notably her guitar playing stems from a time when the steel-stringed instrument was truly finding its voice.
As well as running workshops and song clinics throughout the three days Reg and Katie will perform at a live gig on Thursday night (free for retreat participants and ticketed to the public).
This retreat is a wonderful opportunity for songwriters of all levels to forget about the rest of the world and immerse themselves in their writing amongst like-minded people, and well-supported by Reg and his team (Katie Spencer and Reg's manager Katie Whitehouse). The programme includes group and individual tasks to stretch and challenge, opportunities to collaborate, a chance to play songs to Reg and Katie for feedback (song clinics), song sharing with the group, Q&A sessions, space to write brand new songs, time to relax at the bar, and to enjoy good food and good fun.
***
Who's it For?
Songwriters of all levels are welcome, even absolute beginners. The course is tailored around the group.
Reg says: "Halsway is a stunning location for bringing people together in a creative way and I look forward to being back in February.
The words and ideas and thoughts that come from hard work and supportive interaction are uplifting and inspiring. It's rewarding to help to ease people back into songs where they had perhaps become stuck or blocked in some way, and witness the sense of relief and renewed creativity. It is also hugely great to work with motivated people who have never written a song before and see the joy and satisfaction their first song brings to them and everyone around them."
What people said at the end of the last retreat:
"Now I know I can do it!"
"I now have the confidence and the motivation to get on with it."
"This was the kick start I needed to put my ideas into something concrete."
"I've learnt not to complicate things in the early stages of songwriting, and to just write! Thank you for the encouragement and confidence."
"I'm grateful for not only the excellent inspiring workshop, but the safe and encouraging environment in which I achieved my goal and have written my first ever song."