Reg Meuross at the Acoustic Tearoom Kirkby Stephen
November 12, 2016 @ 7:00 pm

-

11:00 pm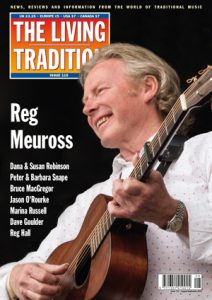 Back up to Kirkby Stephen Cumbria to this lovely venue. Where you can relax and have a delicious meal before the music.
The acoustic tearoom started life from a simple idea to bring the best in acoustic music to a very small venue in the Eden Valley knowing it would bring friends together over a home-cooked supper, a glass or two of wine and some of the finest acoustic music you will ever hear. This all began over 20yrs ago and although the tearoom has gone the music continues at the Masonic Hall, this lovely space provides all you need for a warm, cosy atmospheric evening. Probable menu: Beef braised with Port and Wild Mushrooms served with Winter Cabbage and a Creamy Mash OR Lancaster Cheese & Parsnip Roulade with a Pepper Relish & Sweet Potato Chips. Puds: Maple Syrup & Pecan Tart with Ice Cream. Old fashioned Apple Charlotte with Custard. BlackBerry Eton Mess.
The evening includes one of the Acoustic Tearooms' famous suppers with a BYOW policy. Ticket prices are £26 with supper or £12 show only call 017683 72123 https://www.ticketsource.co.uk/acoustictearoom
This beautifully intimate gig at the Acoustic Tearoom in Kirkby Stephen coincides with Armistice Weekend and Reg will be singing 'And Jesus Wept' which remembers private Harry Farr, one of the 306 shell shocked soldiers who was shot at dawn by their own men during the Battle of the Somme.
It's been 100 years now since Harry Farr, a 25 year old British Soldier, was executed by his own fellow soldiers for 'desertion' when suffering from shell shock. He was one of 306 soldiers to meet that fate. As Dan Snow has written in his History Hit: "The trial lasted 20 minutes and he was condemned. He refused a blindfold as he was shot by a firing squad of his former comrades. He left behind a 22 year old wife wife and a child of three. She did not receive a widow's pension and she lost her job as a domestic worker as a result of the 'shame.'" Those 306 men were finally pardoned in 2006. Reg wrote this song 'And Jesus Wept' when he heard about it.
Reg Meuross live at The Albert Hall