Reg Meuross and Harbottle & Jonas – Upstairs @ The Gather
March 18 @ 7:00 pm

-

9:00 pm

£15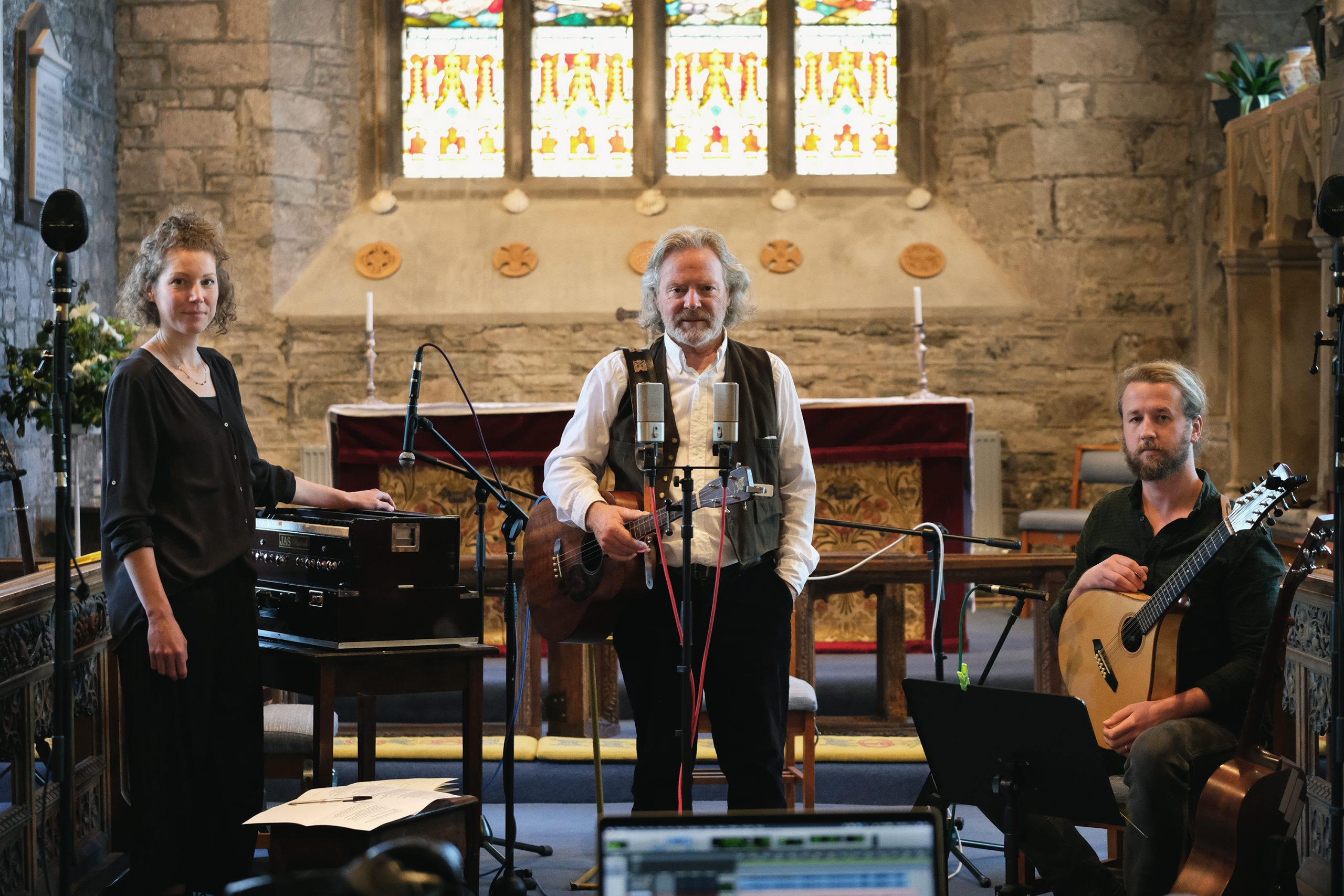 A concert featuring music from masterful musician, story teller and songwriter Reg Meuross and skilful and harmonising folk duo Harbottle & Jonas.
This event will also be livestreamed.
On Friday evening we welcome Reg Meuross and Harbottle & Jonas back to The Gather to present their own music and songs in two separate sets.
The Saturday show is all three as a trio presenting Songs of Love & Death – which are their versions of traditional folk songs.
Two very different evenings of exceptional entertainment.
? SPECIAL OFFER ?
Buy one get one half price! 
Select general admission tickets for Friday and Saturday use the code discount to receive Saturday's ticket half price.
Reg Meuross
The breadth and depth of Reg Meuross's material is unparalleled in contemporary folk: songs about forgotten heroes, famous names, folk legends, the climate emergency, tales from the kitchen sink and news from the world stage; if something needs to be sung about then Reg Meuross has a song for it. Meuross has the gift of being able to touch people through his songs and performance, painting pictures that remain with the listener long after the song has been sung.  Masterfully accompanying himself on his  '44 Martin six-string guitar, harmonica, tenor guitar, banjo and dulcimer and captivating audiences with his beautiful tenor voice, to witness a Reg Meuross performance is to experience a journey into the heart, soul and songs of one of England's finest writers.
"Classic, with echoes of early Dylan, Tom Paxton and Leonard Cohen" The Guardian
"The remarkable singer-songwriter that is Reg Meuross" In Tune, Sean Rafferty
"A mighty songwriter and an equally fine singer" Martin Carthy
Harbottle and Jonas
Partners in life as well as music, Harbottle & Jonas have established themselves as one of the most exciting prospects on the folk circuit today, combining a love of the richness of traditional folk with their own original and powerful songwriting. Dave Harbottle and Freya Jonas have evolved a compelling live signature sound blending concertina, harmonium, piano, banjo, stomp box, acoustic guitar and cittern with their close harmonies and trademark vocal interplay.
Their most recent album The Beacon was written and recorded at home during the summer of 2020 and heralded as "magnificent" by Folkradio.co.uk.
"Great originality, and enjoyment… nothing short of sublime" Folk Radio UK "thoughtful words and music rooted in tradition yet entirely current" Americana UK
Reg, Dave and Freya know each other well and have collaborated before on Reg's lockdown song Shine On and their trio album Songs of Love & Death, which they will present at The Gather on Saturday 19th March
"…there's no questioning the freshness and resonance of the interpretations, or the sheer class the trio brings." Folk Radio UK
"…thoughtful settings and delicate voices…. with elegance and consistency." Bright Young Folk
"A wistfulness coupled with big harmonies." folking.com "This brilliant album is an absolute cracker." Mike Norris, Classic Folk
Described as "a mighty songwriter" by Martin Carthy, Reg Meuross has been a constant presence in the nation's folk clubs and venues throughout his 30 year career with 13 solo albums to his name, songs such as 'England Green & England Grey' and 'And Jesus Wept' have entered the modern folk canon, but, until lockdown, he had never delved into the traditional songs that have so influenced his writing; "although these songs inhabited me, I realised I'd never inhabited them and I took the chance to explore, eventually settling on ten songs, and the idea of recording an album started to form in my mind. I got a call from Harbottle & Jonas asking if I was interested in a collaboration for their Saving The Good Stuff series and my first thought was one of my favourite folk songs, Lord Franklin, which I'd loved since hearing John Renbourn's version when I was 15 or so and first learning to play guitar. I loved what we did together so much that we decided to continue work on all ten songs and make an album."  Harbottle & Jonas, husband and wife duo David and Freya, are "one of the finest folk duos in the country" according to Folking.com, and have made an impressive mark on the UK's folk and roots scene in a short period of time.
Matching Reg's talent for conveying the true meaning behind a song in his delivery with David and Freya's exceptional arrangement and accompaniment skills, Songs of Love & Death tackles some of the most enduring songs from the English tradition.
SHE MOVED THROUGH THE FAIR https://youtu.be/MHO6T0qPc_k
LORD RANDALL https://youtu.be/FuOimQDxkzA
AS I ROVED OUT https://youtu.be/nGgqonUAN34