**ALBUM LAUNCH** Reg Meuross at Holywell Music & Folk Oxford
July 13, 2018 @ 7:00 pm

-

10:30 pm

£12.50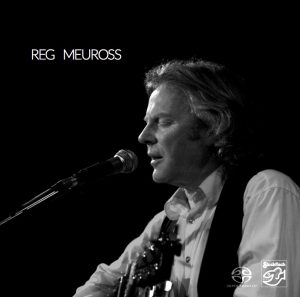 Holywell Music & Folk is very honoured that patron artist Reg Meuross has chosen this prestigious Oxford venue for the release of his new album, recorded at Stockfisch Records in Germany.
This exclusive launch of 'REG MEUROSS', will be the first and possibly only chance to buy the album direct from Reg (as we have limited copies).
Friday 13th July, doors 7pm support Edd Donovan – all details holywellmusicandfolk.co.uk
Reg Meuross was invited to Germany by the innovative producer Gunter Pauler, director of cutting edge audiophile studios Stockfisch Records, to record this eponymously titled new release. The resulting album, out on Friday 13th July 2018, is a brand new retrospective; new recordings and arrangements of 12 songs selected by Pauler from the Somerset singer-songwriters extensive repertoire.
CDs and  vinyl available on line from 13th July via stockfisch-records.de and pre-order available on amazon.de
A limited amount of CDs available directly from Reg at live gigs from 13th July while stock lasts.
Honoured by Stockfisch's invite, Reg says "It was a real pleasure to work with Gunther and his team, and to make these new recordings of some of my classics on some of the finest recording equipment in the world. Gunther had a clear vision of how he wanted the songs to sound and I gave him free range to achieve this."
Gunther came across a recording of England Green & England Grey by chance at the end of 2016: "I was immediately impressed by his vocal and lyrics. I knew this would be a perfect fit for our Stockfisch label, so we invited Reg into the studio. The recording session was as good as expected and it was joy to work with Reg. It's great that the songs of the final album span such a variety of different topics. We are very happy to include Reg on the Stockfisch label."
"Love, death, politics, social commentary, these are all tools of the singer- songwriter's trade and, whether drawn from life or imagination, Reg Meuross wields them with the best, crafting songs that touch the heart, stimulate the mind, leave you in a warm glow of contentment or a fire of righteous indignation in equal measure. That is certainly true of this collection of songs revisited from across his career." MIKE DAVIES
TRACKS
Good With His Hands
The Man In Edward Hopper's Bar
England Green & England Grey
One Way Ticket To Louise
For Sophie (This Beautiful Day)
And Jesus Wept
The Band Played Sweet Marie
Looking For Johnnie Ray
Jealous
I Need You
The Shoreline And The Sea
Worry No More
stockfisch-records.de regmeuross.com