Reg Meuross at St Edith Folk
April 5, 2019 @ 7:00 pm

-

11:00 pm

£12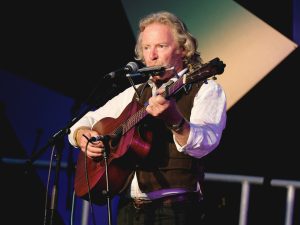 Somerset singer-songwriter Reg Meuross brings new album 12 Silk Handkerchiefs and characters from his 12 other superb albums to St Edith Folk.
Reg Meuross is not only a mesmeric singer-songwriter; he's a wonderful storyteller, too. He weaves his tales in this ancient venerable art, then polishes them up by composing the most captivating tunes you ever heard and, as The Times says, bringing "Intelligent and thought-provoking songs, beautifully made and skilfully delivered". Many will know him for the extraordinary intimacy of his live solo performances.
Reg first emerged onto the acoustic music scene in the 1980s with The Panic Brothers and has, over the years of touring and playing solo as well as with many other acclaimed artists, developed a style that as Pete Townshend says "allows the listener to embrace the whole breadth of his work over many years without distraction". In 1996 he released his first critically acclaimed solo album 'The Goodbye Hat' and was nominated for several music awards, including best song for 'Ring around the Roses'. Since then he has recorded and released a succession of acclaimed albums culminating in the highly praised 'Faraway People' released last year.
Based in Somerset, Reg is at his happiest touring, whatever the venue, from small acoustic clubs to the Albert Hall and festivals across the globe. He has toured UK, the USA, Australia and New Zealand. His shows are spellbinding, Reg captures the attention and the hearts of audiences of all sizes from festival stage to folk club floor with his beautiful tenor voice, captivating lyrics and mesmerising guitar playing.
If you haven't already experienced the warmth, humour and depth of a performance by Reg then you are in for a treat.
When you have 2000 people singing along, you're doing something right." Great British Folk Festival
"One of the most talented storytellers of our generation" Pennyblack Music
"Powerful and moving songwriting" Martin Chilton, The Telegraph
"A mighty songwriter and an equally fine singer" Martin Carthy