Reg Meuross launches new album at the Old Cinema Launderette, Durham
February 14, 2018 @ 7:00 pm

-

10:30 pm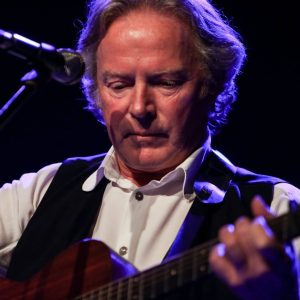 Support from Laurie Shepherd
Calling Reg Meuross a singer-songwriter really doesn't do the man justice. He doesn't write lines of lyrics. He writes short stories then sets them to captivating melodies. Reg's imaginative and finely crafted songs prompted Mike Harding to introduce him onto the stage of The Royal Albert Hall as "One of the finest singer-songwriters this country has produced".
The Old Cinema Laundrette in Durham is the perfect intimate and quirky venue for the North East launch of a very special new album from Reg Meuross. "Some songs don't stay still long enough and scamper off, some are dazzled by the dragonfly's gleam. Some songs are right books put on the wrong shelves." Stephen Jordan, Head of the Bodleian Music Library (1957-2015)
Songs About A Train (official release date Feb 2) is award winning Somerset singer-songwriter Reg Meuross' second sweep down the back of the sofa (the first being The Dreamed and The Drowned) to retrieve songs that have been recorded but have escaped inclusion in his studio albums, not for lack of quality but more a question of space, or suitability to the collection. So here we have 11 more brilliant songs that were unrequired at the time of production, collected and presented in a new album.
With several acclaimed albums under his belt now, including two successful solo albums December and Faraway People with the third on the way to complete the planned trilogy, and as a nod in honour and appreciation of his good friend Stephen Jordan, head of the who commissioned The Dreamed and the Drowned and who died tragically in 2015, Reg felt it would be a good time to have a scratch around and see what else may have been overlooked. The resulting album Songs About A Train is another limited, signed release comprising 11 songs recorded by Reg between 2013 and 2017.
Songs About A Train is less political than Faraway People, but still profound in its messages which will touch people on a really human level.
"One of the most talented storytellers of our generation" Pennyblack Music
"Powerful and moving songwriting" Martin Chilton, The Telegraph
"A mighty songwriter and an equally fine singer" Martin Carthy
"Time and again, Reg proves himself one of the key songwriters of our age" David Kidman
Mick Tems Folk Wales "…every song from the gentle, enchanting genius is worth its weight in gold."
"There's something special about the way he writes and delivers a song" Townes Van Zandt