Reg Meuross 12 Silk Handkerchiefs Triple Trawler Disaster memorial at Hull Minster
March 8, 2019 @ 7:00 pm

-

10:00 pm

£8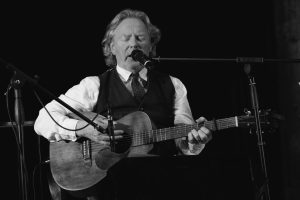 TICKETS HERE
Reg Meuross, one of the UK's finest singer-songwriters, returns to Hull Minster after a sell out performance of 12 Silk Handkerchiefs last year which raised the entire audience to their feet. The concert will mark the 51st anniversary of the big memorial service in 1968 to those 58 fishermen who perished in the Triple Trawler Disaster of 1968, and pay tribute to those who lost their loved ones, to the 'Headscarf Revolutionaries' Lillian Bilocca, Mary Dennis, Yvonne Blenkinsop and Christine Jensen MBE (formerly Smallbone) who fought the trawler bosses in the campaign which turned around the safety laws on the trawlers, and to the 6,000 souls who sailed from Hull never to return to the tight-knit fishing community on the north east coast of England.
At last year's concert, extra seating had to be provided for the many from the Hessle Road fishing community who walked in on the night. One hundred members of Hull Unison joined with the community in the packed out Hull Minster, with the Lord Mayor Councillor Peter Allen who said alongside former Deputy Prime Minister Lord John Prescott, who campaigned with Mrs Bilocca when he was a young trade unionist led the tribute that brought hundreds to their feet.
The audience included last-surviving Headscarf Revolutionary Mrs Yvonne Blenkinsop as well as relatives of the three other women who battled for better safety at sea after three Hull trawlers, the St Romans, the Kingston Peridot and the Ross Cleveland perished in as many weeks in what became known as the Dark Winter in which 58 men died.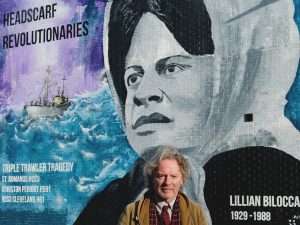 Accomplished local folk singer and multi-instrumentalist Sam Martyn and stalwart of the Hull folk scene Mick McGarry will again be special guests at this performance.
The songs were inspired by the book, The Headscarf Revolutionaries by Brian W Lavery, who curates and narrates the show.
12 Silk Handkerchiefs features original songs by Reg telling in music and multi-media the story of the Triple Trawler Distaster and subsequent uprising led by fighting fishwife Mrs Lillian Bilocca. The show also covered a fourth tragedy telling how Lillian Bilocca was ostracised by her community and overlooked by history, ending her days in obscurity. The show's title comes from Lil's last action in 1988 as she lay dying, which was to send her daughter Virginia to buy a dozen handkerchiefs to give as gifts to those who had cared for her in hospital.
Brian also reveals rarely-seen archive footage, photos and audio of Harry Eddom, the disaster's sole survivor and mate of the Ross Cleveland.