Reg Meuross – "A true wordsmith with 6 strings" a very special show at Olympic Studios, London
May 24, 2018 @ 7:30 pm

-

10:45 pm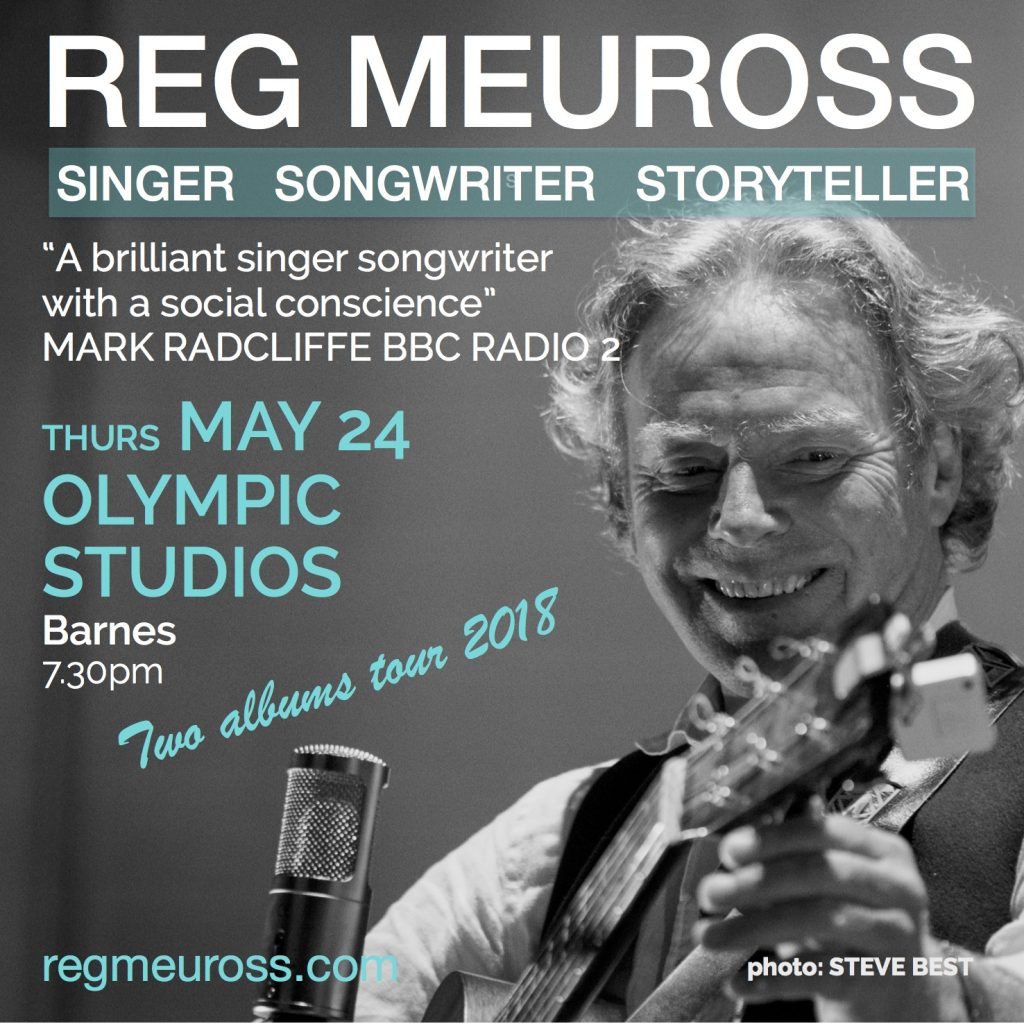 Reg is delighted to have been invited by the legendary Olympic Studios to do a concert. So we're making this a very special show. Watch this space. TICKETS HERE
"A brilliant songwriter and true modern troubadour with a social conscience"said Mark Radcliffe when Reg Meuross played live on the BBC Radio 2 Folk Show earlier this year. The Somerset based singer-songwriter who has performed at the Albert Hall and has been playing acoustic and folk clubs the length and breadth of England, Scotland and Wales, as well as delighting audiences around the world, for over 30 years now seems, finally, to be getting some of the recognition he deserves.
Reg has been invited by producer Chris Kimsey, best known for his work with the Rolling Stones, to perform live at London's legendary Olympic Studios in Barnes on May 24th. The recording studio, which was the go-to place for the likes of the Stones, Jimi Hendrix and Led Zeppelin back in the music industry's 'golden era', has now been converted into a plush cinema so the audience will be sitting very comfortably. Chris explains why he has invited Reg to bring his songs to the venue: "‪Reg Meuross has a memory and heart that grows words with music. His repertoire grows faster than the speed of light in a state of grace. A folk singer in genre but comparable with Pepys who was a lifelong bibliophile and carefully nurtured his large collection of books, manuscripts, and prints, one of the finest collections in existence. Reg has found the same path for his social musical observations."
"This is a real honour"says Reg "and so it's fitting to make this a very special concert, including a premiere of some brand new songs, never played live before."
The prolific Meuross has been touring the length and breadth of the UK with a 'Two Album Tour' with both hard hitting 'Faraway People' which turns a much needed spotlight on pressing social issues such as austerity measures and refugees, plus a stunning compilation 'Songs About A Train.' He has also found time to write and perform a song cycle, '12 Silk Handkerchiefs,' about Hull's 'triple trawler tragedy' of 1968 which he researched with the author of the book 'Headscarf Revolutionaries' Dr Brian Lavery, who narrates the show which has so far been performed once live in Hull with local musician Sam Martyn.
And it doesn't stop there: Seth Lakeman's next album will contain some Lakeman/Meuross co-writes, and most recently Pete Townshend has selected Reg to write and record songs for an important new project, based around the Woody Guthrie song Deportees, explaining: "What Reg does is so pure, so honest, so strong and moral. He is a musician of conscience, and so his music has an additional component in it – journalistic emphasis and factual strength."
But listen to Reg Meuross and you will soon realise it's not all protest, he has penned some of the most beautifully disarming love songs and lyrics ever written.
Reg Meuross first emerged onto the acoustic music scene in the 1980s with The fast paced duo Panic Brothers, before forming the band The Flamingos which featured ex Graham Parker guitarist Martin Belmont, Bob Loveday from The Penguin Cafe Orchestra & Bob Geldof's Band & Alison Jones of The Barely Works. They recorded one album called 'Arrested'.
In 1996 Reg decided to go solo and has since released 11 highly acclaimed studio albums: The Goodbye Hat, Short Stories, Still, Dragonfly, All This Longing, The Dreamed And The Drowned, Leaves & Feathers, England Green & England Grey, December and Faraway People and Songs About A Train.
The years of touring and playing solo as well as with many other acclaimed artists at art centres, music clubs and festivals the length and breadth of the UK as well as abroad and an award winning catalogue of albums, established his songs as "the hinges upon which swing the doors of perceptive English folk" (Folkwords).
"echoes of early Dylan, Tom Paxton and Leonard Cohen." The Guardian.
"Powerful and moving songwriting" The Telegraph
"A brilliant singer-songwriter and true troubadour with a social conscience" Mark Radcliffe Radio 2
"A mighty songwriter and an equally fine singer" Martin Carthy
"One of the most talented storytellers of our generation" Pennyblack Music
"There's something special about the way he writes and delivers a song" Townes Van Zandt.