**SOLD OUT** Reg Meuross with Phil Beer & special guest Geoff Lakeman – Midwinter Concert Crewkerne
December 15, 2017 @ 7:30 pm

-

10:30 pm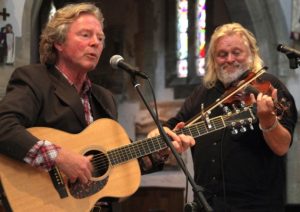 Sorry this gig is now SOLD OUT. We hope to see you another time.
The first ticket for the annual Reg Meuross and Phil Beer Crewkerne Midwinter fundraiser sold in May, long before we'd even announced it. Always sells out, always full of magic and cheer (and a free mince pie for each person – get in there!) 
The very special annual Midwinter Concert at St Bart's Crewkerne, to help raise money for the upkeep of this beautiful building. Phil Beer and Reg will be playing together, some new and some old songs. The Christmas Tree festival will be going on at the same time and the theme is Winter Wonderland. What a perfect backdrop.
Tickets £14.00, children under 14, £5.00. There will be a well stocked bar and raffle and a free mince pie each during the interval.
Doors will open at 6.45pm Music from 7.30pm
Likely to end 10.15ish
St Bartholomew's Church, Crewkerne, TA18 7HY