FULLY BOOKED Reg Meuross songwriting retreat at Halsway Manor – DIY Songwriting
June 17, 2019 @ 3:00 pm

-

June 21, 2019 @ 11:30 am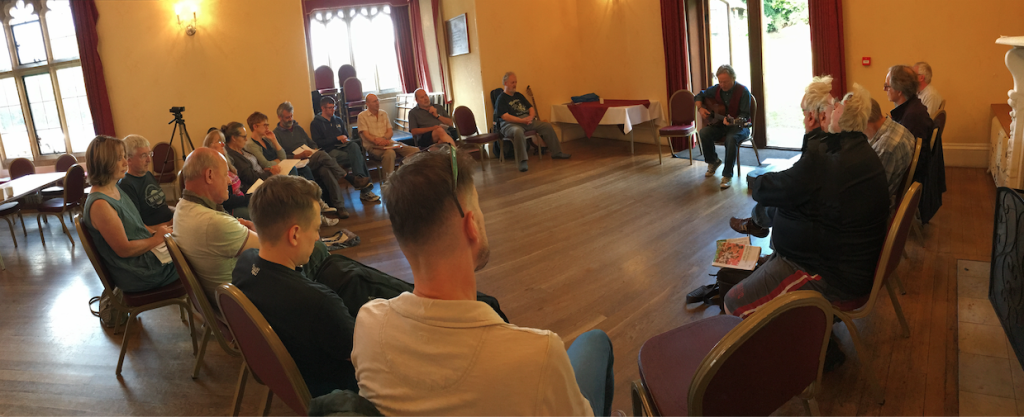 Discover and nurture the songwriter within you. A step-by-step guide to thinking, living and breathing like a songwriter.
Due to popular request, Reg is offering an extended (four nights) residential songwriting retreat at beautiful Halsway Manor in Somerset. From Monday afternoon on 17th June to Friday morning on 21st June. To reserve your place please pay your deposit using the link below and we will get in touch with finer details of your accommodation (we have a limited number of ensuite rooms for an additional £50 charge and there is camping and also non residential availability).
FULLY BOOKED
Reg says: "You don't have to be a professional Builder to build shelves nor do you have to be a professional Songwriter to write some great songs."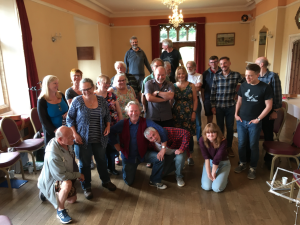 On this workshop you'll take time to really explore and develop your songwriting with a master of the art, Reg Meuross. There will be plenty of space and time to walk, think and write within a programme that delves into every aspect of songwriting. We'll look at what it means to be a songwriter, how to live and breathe 'like a songwriter', with tips and ideas that could become part of the regular practice of honing your craft.
"Meuross doesn't write lines of lyrics. He writes short stories then sets them to some of the most captivating melodies you'll ever hear." Pennyblack Music.
Course fee of £500 includes meals, tutoring, accommodation and entry to a Reg Meuross + special guest gig on Thursday 20th June.
Early bird discount available if you book and pay your deposit by April 30th. Please note that we have a limited number of ensuite rooms – please let us know ASAP if you'd like one when you pay your deposit, for an additional £50 charge.
Deposit secures your booking. Balance payable by May 31st.
FULLY BOOKED
Reg and his team will offer you tips tools and guidance for your songwriting and will also share ideas and exercises with you to help sustain your songwriting practice long beyond the retreat and into your daily life. Each day begins with an exercise to get you into writing mode and there will be a mix of
– songwriting exercises
– skill development
– Q&A sessions
– small group sessions for individual feedback on songs
– relaxed evening song sharing sessions
– performance advice
– how to develop your own unique and authentic songwriting persona. Katie Whitehouse, Reg's manager and promoter, will run sessions on how to find your own unique path to marketing yourself as a singer-songwriter in today's music world.
Who's it For?
Anyone interested in songwriting. This course is for beginners upwards and the team and the course will be tailored to accommodate all levels of experience and proficiency.
The Tutor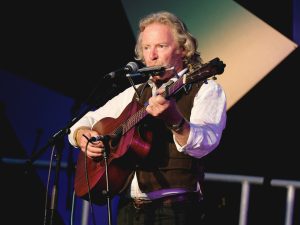 Reg Meuross' reputation as a Master Storyteller has been well earned. From gigging in village halls and folk clubs to playing the Royal Albert Hall and huge festival stages in the UK and abroad, Reg consistently entrances his audiences with songs of life, love and injustice, soulfully delivered with melodic tenor vocals and exemplary guitar playing.
Reg has given lectures and presentations on songwriting in Durham University; at festivals including Shrewsbury, Beverley, Trowbridge, Ely, Southwell, Weymouth, Towersey; and overseas at West Coast Songwriters in California, Kerrville Folk Festival Texas, and Uncle Calvins Coffee House Series in Texas.
"You know that feeling when you suddenly get an idea? When that comes, it comes with a bit of magic, so treasure, nourish and nurture it until it becomes a song… You might end up with a notebook filled with thoughtful and inspiring – or less inspiring words but you might end up with one great song! This retreat is about getting into the world of the song and allowing yourself to go with it and let it move." Reg Meuross
Full team to be announced.
Comments from past workshops
"There's a subtleness to his approach that means what he says sinks in much better than were he to appear to be lecturing a class. Before you know it, you've got a notebook and head full of ideas for your songwriting that would have seemed fanciful that same morning."
"I went home with renewed enthusiasm for the art/craft of songwriting, and with more direction and focus, I hope, to what I'm doing."