"VIRTUALLY GREEN NOTE" (live-stream) Reg Meuross, Charlie Dore & Harbottle & Jonas
June 3, 2020 @ 8:00 pm

-

9:30 pm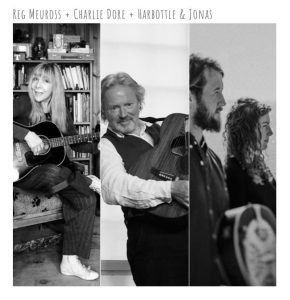 REG MEUROSS: If something needs to be sung about then Reg Meuross has a song for it. The breadth and depth of his material is unparalleled in contemporary folk: songs about forgotten heroes, famous names, folk/historical legends, the climate emergency, tales from the kitchen sink and news from the world stage. Experience a journey into the heart, soul and songs of one of England's finest writers.
"...assured a place in the pantheon of great folk songwriters."  David Kidman, The Living Tradition
"The remarkable singer-songwriter that is Reg Meuross" Sean Rafferty BBC Radio 3
CHARLIE DORE: Charlie Dore chooses some personal favourites from her back collection, and may also dip into her new album, Like Animals, out on June 19th. The stories between her songs are often dark and funny. This multi-award-winner is one of only a handful of contemporary writers to have had success across so many different genres; Tina Turner, George Harrison, and Celine Dion have all covered Charlie's songs; history shows that she saves the best for herself.
"...subtle songs that pack a punch, her winsome voice lulls you into a false sense of security as she pulls the rug out from under your feet… absolute gems of modern songwriting" Mike Harding
HARBOTTLE & JONAS: Harbottle & Jonas are one of the most exciting prospects on the folk circuit today, combining a love of the richness of traditional folk with their own original and powerful songwriting. Partners in life as well as music, Dave and Freya have evolved a compelling live signature sound blending concertina, harmonium, banjo, stomp box, acoustic guitar and cittern with their powerful close vocal harmonies.
"One of the finest folk duos in the country…. utter brilliance as performers and writers" Mike Davies