Larrivee OM 03R. Year 2008
I bought this guitar new in 2008 when I was touring America. I was on my way from Kerrville Folk Festival in Texas to Nashville and stopped in San Antonio at Guitar Tex on McCullough Avenue. They had a fantastic collection of new and used guitars and I narrowed it down to this and a Martin 00018. I'd always wanted to own a Martin and this was a beauty, but just as I was about to bring out the dollars the man handed me this Larrivée. I'd never heard of them but immediately I could see it was a quality instrument, heavier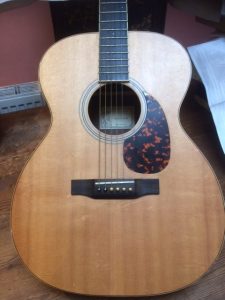 and more solid than the Martin but beautifully made from Sitka Spruce and Rosewood. It felt like a guitar should feel, perfectly balanced with a sweet warm tone. At the time it was exactly the sound I was looking for. The weird thing is it had a scent, I can't describe it but a kind of sweet woody smell. I don't know if this was something Larrivee did to make you feel at home with your instrument but it stayed in the case and on the wood for a good couple of years after I bought it. More photos below.
I bought the guitar and brought it home. The first significant concert I played on it was The Royal Albert Hall in 2009. After that I wrote three albums of songs on it; All This Longing, Leaves & Feathers and England Green & England Grey. I recorded on it at Abbey Road (Leaves & Feathers) and Pete Townshend's Barge studio in St Katherine Docks, London.
For 7 years it was my only guitar and it saw me through thousands of gigs in clubs, theatres, festivals etc in the UK, America, Australia, New Zealand and South Africa
In 2015 I finally found my instrument, a 1944 Martin 017. It was a very different instrument to The Larrivée and I realised my playing had changed to suit the Martin more, so the Larrivée went in its box and has stayed there ever since. It seems a shame for such a beautiful instrument not to be played and enjoyed by others. That's what instruments are for after all, and the time has come for this one to sing in another player's hands. I'm sure it will find its way to the right hands.
Reg Meuross December 2018. Somerset
The guitar will come with full written provenance from Reg and signed if required.
If you are interested, please place a bid HERE. Your bid will be acknowledged by email. The auction will close on January 14th 2019 at 9am, and the guitar will go to the highest bidder that we have acknowledged by email at that point and payment must be made in cash or by bank transfer on January 14th 2019. We will stay in touch with you to let you know as bidding increases so you won't miss out. Bidding starts at £1,200.  The price will not include shipping. Buyer collects from Crewkerne, Somerset or shipping can be arranged at the buyer's expense.