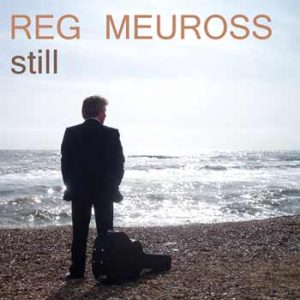 Reg's album 'still' on Offspring Records is now available. It features 12 original songs by Reg and a cover version of the Tim Buckley song, 'Morning Glory'.
His previous album 'Short Stories' met with worldwide critical acclaim, winning Reg a lot of new friends.
As on Short Stories Reg has kept to the same core of musicians.
Roy Dodds (Fairground Attraction, Eddie Reader) on Drums & percussion.
Miranda Sykes (Show of Hands) on Double Bass & Vocals.
and Rabbit Bundrick (The Who) on Keyboards.
Among his guests this time are Martin Carthy, Phil Beer & Sarah Allen.
Order Your Copy Now!

Reg Meuross – 'still' First press reviews:
'It's a gem of an album that fully deserves to bring him some long overdue acclaim.' – Mike Davies, August 06. 'Netrhythms'
'Pure class. Reg Meuross is that rare breed, a true English troubadour.'
'…(he) outlines topics and subjects that maybe you don't think have any bearing or impact on your life, but his lyrics engage you right from the off. And then you realise they could be about you. Most artists' songs either bring you in and touch part of your being or provide aspirations as to where you wish to be. Meuross's do both. ' – Phil Edwards, August 06 'Americana'
'A collection of extremely beautiful songs, given a fine reading by one of the UK's most talented singer ' songwriters.' – Maverick Magazine, August 06. Dave Kidman
'MUSICIAN' REVIEW – "Melodic Wizardry":
'Reg is one of our songwriting wizards who has been passed over in favour of far lesser lights by the commercial world, but who continues to delight and entertain with his gentle but spirited songs of everyday life, love and loss.
Major roles with The Panic Brothers, Hank Wangford's Lost Cowboys and The Flamingos has kept him busy, although it's his ability to craft a pointed phrase and sweet top line that means his work will generate more admiring fans. These include some of the notables here, such as The Who's keyboard player John 'Rabbit' Bundrick, bassist Miranda Sykes, accordionist Sarah Allen as well as folk gods Martin Carthy and Phil Beer.
A lovely lingering piano launches The Man in Edward Hopper's Bar, and we're reminded of the lure of truly ace writing and singing. A mere sidestep away from major recognition. Excellent.' – Keith Ames, 'Musician', December 06