Of all my songs posted on Youtube I think only a handful were posted by me. Some 'official' ones have had plenty of views but others languish in quiet obscurity so I thought it would it would be nice to give them all an airing here. So here we go, A SONG A DAY until I run out. If you take the time to listen it would be great to have your feedback too
A SONG A DAY – Day 7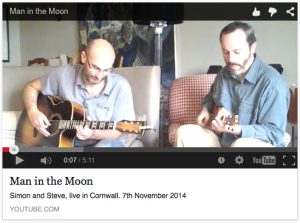 The Man in the Moon.
This one was sent to me by Simon Twigg.
An excellent version accompanied by Steve Pledger
WATCH it HERE
A SONG A DAY – Day 6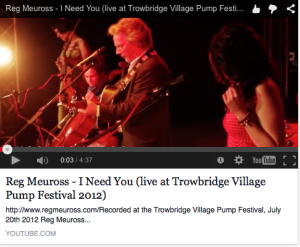 A SONG FOR VALENTINES DAY
'I Need You' filmed live at the Village Pump Folk Festival with Jess Vincent, Bethany Porter, Simon Edwards, Emma Hooper.
Watch HERE
A SONG A DAY – Day 5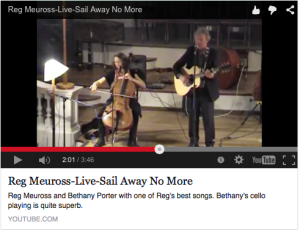 SAIL AWAY NO MORE I wrote a couple of songs about the Cumbrian Floods in November 2009.I was on tour in the north at the time and was shocked by the devastation it caused. The 2 songs were this one and another called Mr Rain the Tailor and they focussed on the only direct fatality of the floods, PC Bill Barker who was swept away while diverting traffic from a bridge. Mr Rain was later released on a charity record to raise funds for Mr Barker's family. This song was on my All this Longing CD and is recorded here at the beautiful Holywell Rooms in Oxford with some exceptional playing from Bethany Porter​.
WATCH HERE
A SONG A DAY – DAY 4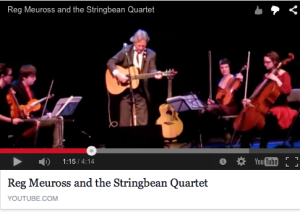 EMILY'S PAGES with The Stringbean Quartet Featuring Bethany Porter & Emma Hooper. A slightly shaky premiere of a song I wrote about the American poet Emily Dickinson. In spite of her importance in American literature Emily had only a handful of poems published during her lifetime. After her death 1800 poems were found, many of them in hand bound notebooks. In my early writing days I felt intimidated by punctuation. Emily's writing freed me from that.
A word is dead
When it is said,
Some say.
I say it just
Begins to live
That day.
This video was filmed at Chapel Arts Centre in Bath by the intrepid Barry Reah WATCH IT HERE
A SONG A DAY – DAY 3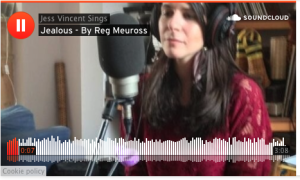 JEALOUS – covered by Jess Vincent.
Jess is a hugely talented young writer and singer in her own right so it makes me very happy to hear this on Soundcloud, one of my favourite songs sung beautifully HERE.
A SONG A DAY – DAY 2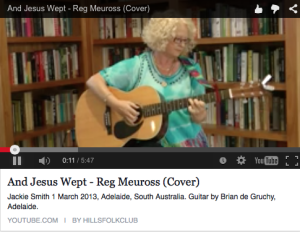 AND JESUS WEPT  – covered by Jackie Smith from Adelaide. I don't know Jackie but this turned up on Youtube and I think it's a sweet version. I wrote the song in 2006 after reading the story of private Harry Farr who was executed for cowardice in 1916 by his fellow soldiers in Ypres. Harry was not a coward but suffering from shell shock. After 90 years of living with the injustice and shame his family finally managed to get a pardon from the british government. Harry was one of 306 men executed by their colleagues in the 1st World War. There are simple wooden posts in the national Arboretum to commemorate each one.
WATCH THE VIDEO HERE
A SONG A DAY – DAY 1
COUNTING MY FOOTSTEPS TO YOU A video of the song I wrote after playing several care homes and hearing the story of Margaret who, accustomed to an evening walk before bed, became upset when she could no longer walk as her condition would cause her to lose her way. So her nurse came up with the idea of counting her footsteps back to her room so that Margaret would continue to have her evening exercise.
WATCH THE VIDEO HERE