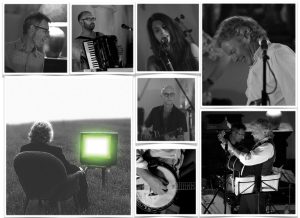 REG MEUROSS – new album ENGLAND GREEN & ENGLAND GREY ORDER HERE
"Magnificent, powerful and moving" PETE TOWNSHEND
"..beautiful; fascinatingly lovely and utterly captivating. The storytelling  is superb"  TAMSIN ROSEWELL, RADIO WARWICKSHIRE
This new work deals with topics such as dementia, with a commentary on the subject Counting My Footsteps To You; it commemorates  the centenary of WW1, with an unromanticised account of the story of Flora Sandes (the only woman to fight in that war); it tells the tale of the bandleader and his violin both lost in the Titanic disaster, The Band Played Sweet Marie; and it delivers an anthem for our times: England Green and England Grey.
"Possibly the best album yet from one of England's finest singer/songwriters"  Mike Harding, Mike Harding Folk Show
Reg can be booked solo, as a duo with Jess Vincent, or with the EG&EG band – subject to availability and budget.
To village halls, folk clubs, churches, house concerts and Festival stages the length and breadth of this green and grey land, Reg will bring a collection of extremely beautiful songs from the new album plus a selection from his 8 previous highly acclaimed solo albums. ENGLAND GREEN & ENGLAND GREY – the tour #greenandgrey
"Intelligent and thought-provoking songs, beautifully made and skilfully delivered" The Times
"There's something special about the way he writes and delivers a song" TOWNES VAN ZANDT
"Calling Meuross a singer-songwriter really doesn't do the man justice. Meuross doesn't write lines of lyrics. He writes short stories then sets them to some of the most captivating melodies you'll ever hear." Pennyblack Music
"Magnificent powerful and moving" Pete Townshend
If you would like me to come to a venue near you, or are interested in hosting a house concert in your own home, please contact my agent Katie Whitehouse: kt@ktwhitehouse.co.uk or 07832 200980
Click HERE or 'gig's for full listings.
Click HERE for a taster of Reg's music
5 CDs for £40 or 3 for £25
We are offering a set of 5 of Reg's critically acclaimed solo album CDs for just £40 plus p&p. An ideal present for fans and acoustic music lovers alike. Read more…
Featured Video: England Green & England Grey