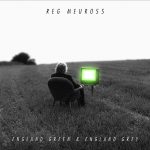 REG MEUROSS – new album ENGLAND GREEN & ENGLAND GREY ORDER HERE
"Magnificent, powerful and moving" PETE TOWNSHEND
"..beautiful; fascinatingly lovely and utterly captivating. The storytelling  is superb"  TAMSIN ROSEWELL, RADIO WARWICKSHIRE
This new work deals with topics such as dementia, with a commentary on the subject Counting My Footsteps To You; it commemorates  the centenary of WW1, with an unromanticised account of the story of Flora Sandes (the only woman to fight in that war); it tells the tale of the bandleader and his violin both lost in the Titanic disaster, The Band Played Sweet Marie; and it delivers an anthem for our times: England Green and England Grey.
"Possibly the best album yet from one of England's finest singer/songwriters"  Mike Harding, Mike Harding Folk Show
I really hope to see you in 2014… with these new songs as well as the old favourites.  If you would like me to come to a venue near you, or are interested in hosting a house concert in your own home, please contact my agent Katie Whitehouse: kt@ktwhitehouse.co.uk or 07832 200980
Click HERE or 'gig's for full listings.
Click HERE for a taster of Reg's music
5 CDs for £40 or 3 for £25
We are offering a set of 5 of Reg's critically acclaimed solo album CDs for just £40 plus p&p. An ideal present for fans and acoustic music lovers alike. Read more…
Featured Video: Flora Sandes