Sign up HERE to get news & gig updates from Reg
Order latest album Faraway People HERE
Pre order new album Songs About A Train HERE
2017 brought a new solo album, Faraway People, a collection of songs which comment bravely on life as Reg sees it, bringing wide ranging stories, from the ravages of austerity and the injustice of the plight of refugees, to some of most beautifully disarming lyrics ever written. Reg has that rare gift of being able to touch people through his songs and performance, on a really human level. His words and music paint pictures that remain with the listener long after the song has been sung.
Order Faraway People HERE
"Time and again, Reg proves himself one of the key songwriters of our age, and Faraway People is (even on the briefest of acquaintances) bound to be judged among his finest collections."
Read full review by David Kidman for Fatea Magazine
HERE
"Verdict: every song from the gentle, enchanting genius is worth its weight in gold. Just buy it!
" Mick Tems, Folk Wales. Full review
HERE
"
Too many protest singers, not enough protest songs
", sang Edwyn Collins, but that's certainly not something that applies to
Reg Meuross
.  From everyday victims crushed by an uncaring society to unsung heroes taking a defiant stand against the darkness of tyranny and oppression
,
Faraway People
goes the distance in turning the spotlight on issues that should not be left in the shadows." Read full review by Mike Davies of Folk Radio UK
HERE 
"Faraway People
is destined to be one of the albums of the year" Read full review by Dai Jeffries of Folking.com
HERE
To book Reg for gigs, festivals, house gigs, weddings (with or without his band), song commissions, radio sessions, interviews please contact katie@fromthewhitehouse.com 07832 200980
LATEST NEWS HERE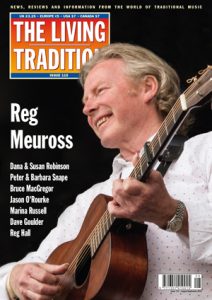 Many will know award winner Reg Meuross for the extraordinary intimacy of his live solo performances, and it's the countless requests at these unique events for 'the one that sounds just like what we've just heard' that inspired a trilogy of solo albums from the Somerset singer-songwriter and storyteller through song. This is the second in the trilogy (the first being 'December')
It delivers his poignant and powerful songs with the authenticity of the live performances that have captivated audiences throughout the UK and abroad for nearly 30 years now.
Faraway People available on CD (out now) and vinyl (out soon) could not be more timely. Reg comments courageously on the world we are living in now, from the ravages of austerity to the injustices of racism and the plight of refugees. He also delves into history, echoing warnings that resonate through the decades and are still relevant today. Stories told include people from living memory such as anti Nazi activist Sophie Scholl from WW2, and Michael Brown (victim of the fatal Missouri shooting in 2014) as well as ancient history (Cicero) and even a fictitious meeting between two of the artist's greatest heroes.
Amongst the protest, there is also plenty of beauty and observations on love, life and humanity. "Faraway People goes the distance. Yes, there's anger and indignation, but, all too rare in a protest album, there's also a deep well of compassion and insight into the human heart and spirit." MIKE DAVIES
Reg tours continuously, both in the UK and as far afield as Australia and South Africa. His live shows are spellbinding, capturing the attention and the hearts of audiences of all sizes, from festival stage to folk club floor with his beautiful tenor voice, captivating lyrics and storytelling and mesmerising guitar playing. 12 CD releases now since 1991 have established the songs of Reg Meuross as 'the hinges upon which swing the doors of perceptive English folk.' (Folkwords)
To book Reg for gigs, festivals, house gigs, weddings (with or without his band), song commissions, radio sessions, interviews please contact katie@fromthewhitehouse.com 07832 200980
"Intelligent and thought-provoking songs, beautifully made and skilfully delivered" The Times
"Calling Meuross a singer-songwriter really doesn't do the man justice. Meuross doesn't write lines of lyrics. He writes short stories then sets them to some of the most captivating melodies you'll ever hear." Pennyblack Music
"Magnificent powerful and moving" Pete Townshend
Click HERE or 'gig's for full listings.
Click HERE for a taster of Reg's music