CHRISTMAS NEWS
Special offer until 19th December 2013:  Buy any CD or Songbook and I will enclose a copy of the single My Name is London Town with your order (contains 4 bonus tracks see below)
My Midwinter Concert is Saturday 20th December at St Bartholemew's Church, Crewkerne – with Jackie Oates & The Croutons.  There will be a bar and you will hear new and old songs and have a chance to singalong in a festive style or just sit and stuff yourself with the delicious mince pies!   7.30pm    Tickets £10, children under 14 £5 from Crewkerne Town Hall, or  Geraldine Clotworthy on 01460 76058 or geraldine@clotworthy.co.uk
Click HERE or 'gig's for full listings.
Click HERE for a taster of Reg's music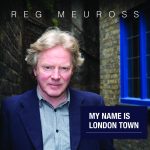 My Name is London Town is Reg's new EP, featuring the much acclaimed song from Reg's latest CD Leaves & Feathers, and accompanied by four of Reg's most popular songs from recent releases:
And Jesus Wept – The story of the 1st WW soldier Harry Farr, wrongly executed for cowardice in 1916. Lizzie Loved a Highwayman: The true story, taken from contemporary accounts, of the highwayman Dick Turpin. Both from the Dragonfly album of 2008 The Shoreline and the Sea – a gorgeous love song from All This Longing 2010 and the always popular Man in the Moon from Reg's 2004 release Short Stories. 2004 Featuring top performers such as Jackie Oates, Bethany Porter, Miranda Sykes, & Roy Dodds.
5 CDs for £40 or 3 for £25
We are offering the complete set of Reg's critically acclaimed solo album CDs for just £40 plus p&p. An ideal present for fans and acoustic music lovers alike. Read more…
Featured Video: My Name Is London Town