SINGER | SONGWRITER | STORYTELLER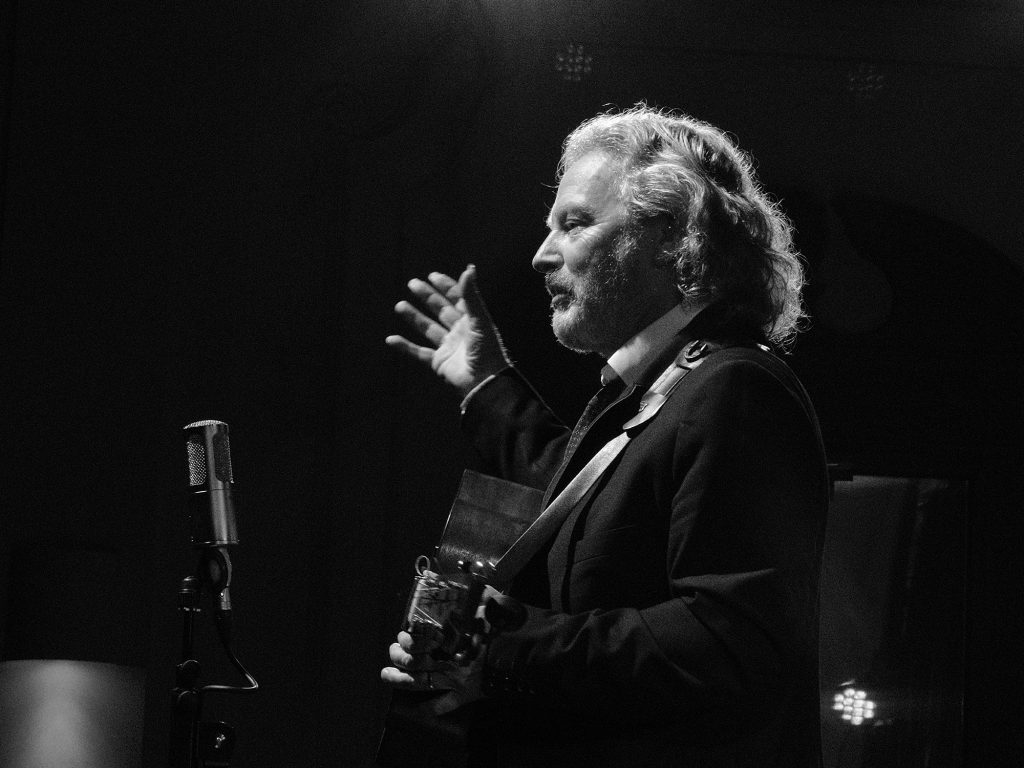 Reg's clever and imaginative lyrics have earned him the title of  "Master Storyteller" (PennyBlack Music) and led Mike Harding (Mike Harding Folk Show) to introduce him onto the stage of The Royal Albert Hall as  "one of the finest singer-songwriters this country has produced". Whether it's a village hall or the Albert Hall, Reg brings to the stage a collection of extremely beautiful songs, performed with humour and depth, and sung with the voice of an angel. Reg has that rare gift of being able to touch people, through his songs and performance, on a really human level. His words and music paint pictures that remain with the listener long after the song has been sung.
Discography
1991 Arrested (with The Flamingos)
1995 The Goodbye Hat
2004 Short Stories
2006 Still
2008 Dragonfly
2010 All This Longing
2013 Leaves & Feathers
2014 England Green & England Grey
2016 December
2017 Songs About A Train
2017 Faraway People
2018 'Reg Meuross' (Stockfisch Records)
2018 12 Silk Handkerchiefs
2019 RAW 
2021 Songs of Love & Death – with Harbottle & Jonas
2023 Stolen From God 
Folking.com Soloist of the Year 2019, Reg Meuross is a true troubadour.  The breadth and depth of his material is unparalleled in contemporary folk: songs about forgotten heroes, famous names, folk legends, the climate emergency, tales from the kitchen sink and news from the world stage; if something needs to be sung about then Reg Meuross has a song for it.
Mark Radcliffe introduced Reg Meuross onto the BBC Radio 2 Folk Show as a "brilliant singer-songwriter and true troubadour with a social conscience". And it's not all protest, as well as story songs which bring characters from history to life and comment on life around him Reg also writes and sings some of the most heart-aching love songs ever written, performed with depth and spellbinding delivery. Reg has that rare gift of being able to touch people through his songs and performance, on a really human level, his words and music painting pictures that remain with the listener long after the song has been sung, accompanying himself masterfully on guitar and captivating audiences with his beautiful tenor voice.
"An insight into the human spirit and empathy the the plight of ordinary people." Froots Magazine
BACKGROUND
Reg Meuross first emerged onto the acoustic music scene in the 1980s with The Panic Brothers and has, over the years of touring and playing solo as well as with many other acclaimed artists, developed a style that as Pete Townshend says "allows the listener to embrace the whole breadth of his work over many years without distraction… he sings in the neutral accent of an Englishman who travels the entirety of the British Isles, and tastes all its flavours, influenced by all its most profound national colours. In this he reminds one of Roy Harper or Ewan MacColl, recent greats who went before him."
Reg then went on to form The Flamingos featuring ex Graham Parker guitarist Martin Belmont, Bob Loveday from The Penguin Cafe Orchestra & Bob Geldof's Band & Alison Jones of The Barely Works. In 1991 they recorded one album called Arrested.
In 1996 he released his first critically acclaimed solo album The Goodbye Hat and was nominated for several music awards. This was followed up in 2004 with Short Stories and in 2006 by the excellent Still.In 2008 he released Dragonfly, followed in 2010 by All This Longing. The Dreamed And The Drowned,released in 2011, is a collection of thirteen previously unreleased archive songs. It was commissioned and compiled by Stephen Jordan at The Bodleian Music Library, Oxford, who said, "this is Reg Meuross at his most eclectic and inspiring best."
In 2012 Reg was invited by Abbey Road to record an album in their world famous studios and he took this opportunity to respond to the many requests for him to make a CD that reflects the warmth intimacy of his live shows.  The resulting album, Leaves & Feathers did just that, receiving 5 star reviews across the board. It's a collection of twelve beautiful songs stripped down to the bare bones which prompted Pennyblack Music to say: "calling Meuross a singer-songwriter really doesn't do the man justice. [He] doesn't write lines of lyrics. He writes short stories then sets them to some of the most captivating melodies you'll ever hear…. Meuross is one of the most talented storytellers of our generation."  Reg was awarded Best Vocalist 2013 by Fatea Magazine.
Leaves & Feathers was a hard act to follow, but his next album England Green & England Grey rose to the challenge, dealing with difficult topics such as dementia, commemorated  the centenary of WW1, told the tale of the bandleader and his violin both lost in the Titanic disaster, The Band Played Sweet Marie; and it delivered an anthem for our times: England Green And England Grey. The album was awarded Best Album of 2014 by FolkWords.
Many will know Reg for the extraordinary intimacy of his live solo performances, and it was the countless requests at these unique events for "the one that sounds just like what we've just heard" that inspired the production of a trilogy of distinctive and entirely solo albums, returning to the solo format which inspired him to write and sing in the first place. The first of these, December, released in 2016, is a collection of 10 of the most beautiful songs which go straight to the heart. Pure Reg. The album was recorded on two days in London in 2016 with no overdubs or studio trickery as a gift to everyone who helped him bring his sweet little 1944 Martin to his hands from where he found it two years ago in San Jose and who helped lovingly restore it.  One man – who just happens to be "one of the finest songwriters this country has produced" [Mike Harding] and his guitar (and a touch of harmonica).
In the second in the trilogy, Faraway People (2017) Reg comments courageously on the world we are living in now, from the ravages of austerity to the injustices of racism and the plight of refugees. He also delves into history, echoing warnings that resonate through the decades and are still relevant today. Stories told include people from living memory such as anti Nazi activist Sophie Scholl from WW2, and Michael Brown (victim of the fatal Missouri shooting in 2014) as well as ancient history (Cicero) and even a fictitious meeting between two of the artist's greatest heroes. The title track was awarded Best Song of 2017 by Fatea Magazine. Amongst the protest there is beauty, love and humour. 
In February 2018 Reg released a second collection of previously unreleased archive songs (the first being The Dreamed and the Drowned) Songs About A Train.  Fatea said"A lot of artists strive in vain to make an album of this quality, yet with these eleven previously rejected tracks Reg has once again produced something truly special. Songs About A Train is an absolute pleasure to listen to from start to finish."
Reg was invited by Stockfisch Records to re-record a number of songs to make the eponymous Reg Meuross. This was released in April 2018.
Before 2018 was out Reg released one more album, the song cycle 12 Silk Handkerchiefs marking the Hull Triple Trawler Disaster of 1968 and celebrating fish wife Lillian Bilocca's fight for better safety on the trawlers. This album is now on tour including some special shows which feature Hull musicians Sam Martyn and Mick McGarry and narrated by author Brian W Lavery whose book 'The Headscarf Revolutionaries' inspired Reg to write the song cycle.
2019
After a summer of festival appearances and performances that have taken him from the New Forest to New York, this autumn sees Reg concentrating on two important and exciting projects: The Reg Meuross presents 12 Silk Handkerchiefs tour and new solo album RAW.
Supported by The Arts Council of England, the 12 Silk Handkerchiefs tour is the culmination of Reg's work bringing the story of Lillian Billocca and Hull's Triple Trawler Disaster of 1968 to a wider audience.
Joined on stage by Headscarf Revolutionaries author Brian W. Lavery, shanty-singer Mick McGarry and multi-instrumentalist/vocalist Sam Martyn, the tour visits nine venues and cities closely linked to the fishing, shipping and maritime communities of England.
SEPT 13: Grimsby Fisherman's Chapel
SEPT 14: West Kirby Arts Centre, Wirral
SEPT 16: Greenwich Theatre, London
SEPT 18: Aldeburgh Jubilee Hall
SEPT 19: The Seagull Theatre, Lowestoft
SEPT 20: Raising the Rafters, Wath (solo gig raising funds for Humber Rescue)
SEPT 21: Ropery Hall, The Ropewalk, Humber Upon Barton
SEPT 22: The Cluncy, Newcastle
Extra date:
OCT 19:  Musicport Festival, Whitby
All details and ticket links
HERE
.
RAW
After the collaboration of this 12 Silk Handkerchiefs project, Reg's new album RAW (release date October 4th) sees him return to the solo performance style that audiences across the land are so familiar with.
Accompanying himself on his '44 Martin six-string guitar, tenor guitar, banjo, dulcimer, and harmonica, RAW is the sound of one man and his songs.
The resulting album is an intimate window into the heart, soul and songs of one of England's finest writers.The third and final collection in a trilogy of solo albums comprising of 2016's December and 2017's Faraway People, RAW (the most stripped back of the three) was recorded by old friend Geoff Hocking.
"Geoff recorded everything I did back in the mid-1970's when I was just finding my way as a singer / songwriter in the North Devon area." says Reg.
"Geoff's only motivation back then, and still now, is the love of song and music, and the passion for recording as well and as truly as possible what he hears. So for the past few months I've had the pure joy of travelling west – my favourite direction – to his beautiful house and recording simply and honestly my new songs as they've come to me."
The first single from RAW, We Looked Away, is available from online outlets now. Official Video –
We Looked Away 
A timely reflection on how easy it is to sit by whilst the world changes for the worst around us, We Looked Away is a typically non-judgemental Meuross song that draws your attention to the issues without pointing a finger or laying the blame at any one person's door – 'we looked away'.
Meuross launches the album at The Cockpit Theatre, Marylebone on October the 5th, and will be touring from October through to the New Year and beyond.
Even by his own standards 2019 has been a busy year for Reg Meuross – 100 concerts, 6 albums remastered and reissued, 2 songwriting retreats, and a new album written, recorded and released – and 2020 looks to be just as busy, with festivals already confirmed for the summer and plans afoot for a new projects, produced by old friend Pete Townsend).But Reg Meuross wouldn't have it any other way; his is the life of the troubadour, the minstrel, the folk singer. 
Whilst it remains obvious that the world needs his songs, he will sing them; in folk clubs, arts centres, theatres, living rooms, pubs, and on stages both large and small; wherever songs must and should be sung you will find him.
Due to popular demand, Reg has re-issued 6 of his back albums which had been out of print. The Goodbye Hat, Short Stories, Still, Dragonfly, All This Longing and Leaves & Feathers are all now available as a beautiful Reg Meuross Retrospective collection.
"When you have 2000 people singing along, you're doing something right." Great British Folk Festival
"A mighty songwriter and an equally fine singer" Martin Carthy
"One of the most talented storytellers of our generation" Pennyblack Music
"Powerful and moving songwriting" Martin Chilton, The Telegraph
A deep well of compassion and insight into the human heart and spirit." Mike Davies, Folk Radio UK
To book Reg for gigs, festivals, house gigs, weddings (with or without his band), song commissions, radio sessions, interviews please contact katie@fromthewhitehouse.com 07832 200980
What people say
"Perceptive..beautiful and intelligent songs…Stunning!" Mike Harding
"…beautiful" Iain Anderson BBC Radio Scotland
"Leaves And Feathers has left me speechless. He's really earned the title of Master Storyteller." Mick Tems, FolkWales
'He really draws you in.. great storyteller.. great sound" Frank Hennessy Celtic Heartbeat BBC Radio Wales
'Intelligent and thought-provoking songs, beautifully made and skilfully delivered' The Times