'Reg Meuross' the forthcoming release via Stockfish Records INFO HERE is out on 13 July 2018.
Faraway People Press info HERE
Reg's clever and imaginative lyrics have earned him the title of  "Master Storyteller" (PennyBlack Music) and led Mike Harding (Mike Harding Folk Show) to introduce him onto the stage of The Royal Albert Hall as  "one of the finest singer-songwriters this country has produced". Whether it's a village hall or the Albert Hall, Reg brings to the stage a collection of extremely beautiful songs, performed with humour and depth, and sung with the voice of an angel. Reg has that rare gift of being able to touch people, through his songs and performance, on a really human level. His words and music paint pictures that remain with the listener long after the song has been sung.
Reg first emerged onto the acoustic music scene in the 1980s with The Panic Brothers and has, over the years of touring and playing solo as well as with many other acclaimed artists, developed a style that as Pete Townshend says "allows the listener to embrace the whole breadth of his work over many years without distraction… he sings in the neutral accent of an Englishman who travels the entirety of the British Isles, and tastes all its flavours, influenced by all its most profound national colours. In this he reminds one of Roy Harper or Ewan McColl, recent greats who went before him." 
Reg then went on to form The Flamingos who featured ex Graham Parker guitarist Martin Belmont, Bob Loveday from The Penguin Cafe Orchestra & Bob Geldof's Band & Alison Jones of The Barely Works They recorded one album called 'Arrested'.
In 1996 he released his first critically acclaimed solo album 'The Goodbye Hat' and was nominated for several music awards, including best song for 'Ring around the Roses'. It was followed up in 2004 with 'Short Stories' and in 2006 by the excellent 'Still'. In 2008 he released his most successful collection to date, 'Dragonfly', followed in 2010 by 'All this Longing'. 'The Dreamed and the Drowned', released  in 2011, is a collection of thirteen previously unreleased  archive songs. It was commissioned and compiled by Stephen Jordan at The Bodleian Music Library, Oxford, who says "This is Reg Meuross at his most eclectic and inspiring best."
Reg was invited by Abbey Road, in 2012, to record an album in their world famous studios and he took this opportunity to respond to the many requests for him to make a CD that reflects the warmth intimacy of his live shows.  The resulting album, Leaves & Feathers did just that.  It's a collection of 12 beautiful songs stripped down to the bare bones which prompted Pennyblack Music to say: "calling Meuross a singer-songwriter really doesn't do the man justice. [He] doesn't write lines of lyrics. He writes short stories then sets them to some of the most captivating melodies you'll ever hear…. Meuross is one of the most talented storytellers of our generation." 
Receiving 5 star reviews across the board, Leaves & Feathers was hailed by many to be Reg's most accomplished collection yet.  Given the consistency of quality of all his albums up to now, this one was a hard act to follow, but his next album ENGLAND GREEN & ENGLAND GREY rose to the challenge dealing with difficult topics such as dementia, with a deep and moving commentary on the subject Counting My Footsteps To You; it commemorated  the centenary of WW1, with an unromanticised account of the story of Flora Sandes (the only woman to fight in that war); it told the tale of the bandleader and his violin both lost in the Titanic disaster, The Band Played Sweet Marie; and it delivered an anthem for our times: England Green and England Grey. The album was awarded Best Of 2014 by FolkWords.
'DECEMBER' released March 18 2016.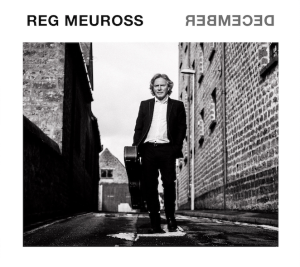 Many will know Reg for the extraordinary intimacy of his live solo performances, and it's the countless requests at these unique events for 'the one that sounds just like what we've just heard' that have inspired the production of this distinctive and entirely solo album of new songs.  After 10 album releases Reg Meuross has returned to the solo format which inspired him to write and sing in the first place. 'December' is a collection of 10 of the most beautiful songs which go straight to the heart. Pure Reg.
The album was recorded on two days in London last December with no overdubs or studio trickery as a gift to everyone who helped him bring his sweet little 1944 Martin to his hands from where he found it two years ago in San Jose and who helped lovingly restore it. This is the sound of ten new and beautifully crafted songs in their purest, most original and definitive form. One man – who just happens to be 'one of the finest songwriters this country has produced' – and his guitar (and a touch of harmonica).
"The gentle enchantment and genius of Reg Meuross" David Kidman, Fatea Magazine
"…sounds like a forgotten, American 60s classic with echoes of Dylan, Tom Paxton & Leonard Cohen" Robin Denselow, The Guardian
"Meuross, quite simply, is one of the best" 
Malcolm Carter, Pennyblack Music
Pennyblack Music says: "Calling Meuross a singer-songwriter really doesn't do the man justice. Meuross doesn't write lines of lyrics. He writes short stories then sets them to some of the most captivating melodies you'll ever hear.
"
Pete Townshend says: 
"Reg's composing and performing is not bound or influenced by trends or fashion or the need to make a display. Reg will be a good man to listen to when the time comes to look at developing your own way to be your own singer-songwriter."
Based in Somerset, Reg is at his happiest touring, whatever the venue, from small acoustic clubs to the Albert Hall and big festivals across the globe. He has toured UK, the USA, Australia and New Zealand. Festival highlights have included Cropredy, Cambridge Folk Festival, Great British Folk Festival, Auckland Folk Festival, Illawarra Folk Festival and many more.
These shows are spellbinding and Reg Meuross captures the attention and the hearts of audiences of all sizes from festival stage to folk club floor with his beautiful tenor voice, captivating lyrics and mesmerising guitar playing."
To book Reg for gigs, festivals, house gigs, weddings (with or without his band), song commissions, radio sessions, interviews please contact katie@fromthewhitehouse.com 07832 200980
What people say
"Perceptive..beautiful and intelligent songs…Stunning!" Mike Harding
"…beautiful" Iain Anderson BBC Radio Scotland
"Leaves And Feathers has left me speechless. He's really earned the title of Master Storyteller." Mick Tems, FolkWales
'He really draws you in.. great storyteller.. great sound" Frank Hennessy Celtic Heartbeat BBC Radio Wales
'Intelligent and thought-provoking songs, beautifully made and skilfully delivered' The Times