Thanks and acknowledgement to Halsway Manor for awarding an incubator bursary to Stolen From God – which allowed Reg, Senegalese kora master Jali Fily Cissokho, concertina player Cohen Braithwaite-Kilcoyne and vocalist Jaz Gayle to meet for a day earlier this year to work on Reg's songs together. Also to Mill Farm Music in Dorset for invaluable support recording this album.

Good Morning Mr Colston – the first single from Stolen From God – HERE.
With evidence of the slave trade across the South-West of England, and a real need for our history to be told, Reg Meuross has researched and written a song cycle 'Stolen From God' – a set of moving and thought provoking songs, with narration, to tell the challenging and often harrowing tales of the region's past.
Recognised as a "true troubadour with a social conscience" by Mark Radcliffe, Reg Meuross has made it his life's work to bring the stories of the oppressed, forgotten and misrepresented members of our human family to light.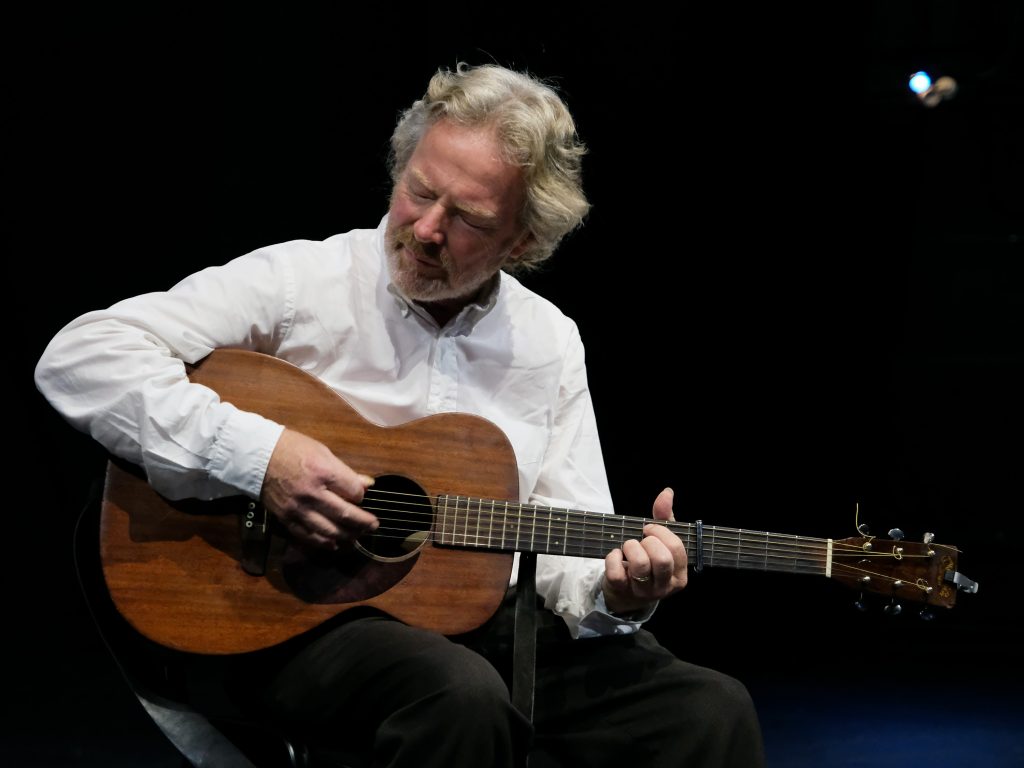 "I've been a singer/songwriter, a folk-singer, all my life. Telling stories that reflect our times, telling important stories from history, highlighting issues that I believe are important; songs about people, for people.
"Evidence of involvement in Transatlantic slavery is everywhere in the West Country: Topsham, Bridgwater, Bristol, Plymouth & Bideford were all significant ports," Reg explains.
"Many of the big country estates have links with slavery. The connections go right through the upper classes and even the clergy. For example, the Rolle family of Barnstaple had their slave labour estates in Barbados; the Vicar in Hatherleigh was bequeathed 8 slaves in a will; John Hawkins (along with his great friend Sir Francis Drake) was on the first Slave expedition from Plymouth in 1562. Bridgwater became the first British town to petition Parliament for abolition in 1785.
"And, of course, a prominent figure in the Trade was Edward Colston of Bristol, whose legacy is everywhere in that city; schools, streets, Almshouses, hospitals, churches all benefited from his generosity. Generosity enabled by his role as a member of the Royal African Company, which traded in an estimated 84,000 enslaved men, women and children in the time that Colston was with the company."
The toppling of the Colston statue as part of the Black Lives Matter movement in the summer of 2020, and the subsequent debates as to how to display it again show that there are many truths about the relationship with slavery still to be confronted and examined in the South West.
Reg has never shied away from confronting uncomfortable truths, questioning the decisions of the powerful, and addressing false histories in his songs: whether it's calling out the repugnant effects of austerity in Faraway People, or hard-hitting social commentary with The Lonesome Death of Michael Brown, his belief that "folk songs provide a rapid and accessible route into history and its relevance to current affairs and our lives" stands him in good stead when it comes to unearthing and tackling the subject matter of Stolen from God.
"While nothing can be done to atone for the atrocities carried out during that period in British history, it's obvious to me that there is a need for greater awareness of the West Country's involvement in Slavery to be increased on all levels.
"As the scale of the South West's economic reliance and influence in the plantation economies began to reveal itself, with this knowledge came a sense of betrayal; that after 200 years so much of this important part of our history is only now being owned and examined.
"All this hideous criminality, actively masquerading as greatness and Empire, slowly reveals how many of the glorious achievements of Britain's colonial past are tainted by the fact that the map of empire is the blueprint for the history of slavery and racism. It's clear from my initial research and from the contacts I've made with local historians and awareness activists, that there are still many important facts to be revealed and compelling stories to be told.
"My task with Stolen From God has been to produce a song cycle of original songs telling the stories I've found, and to present a history of The South West's involvement in Slavery in a way that will be easily accessible and will have impact – as a recorded album and a live show of songs performed by a diverse group of musicians: the great Master Kora player and Grio Jali Fily Cissokho, concertina player Cohen Braithwaite-Kilcoyne and vocalist Jaz Gayle. The shows will be accompanied by a succinct history around each song."
We are currently seeking ACE funding to tour the song cycle and Indigogo support to record the album. PLEASE SUPPORT HERE.
Any questions should be directed to Katie Whitehouse.
Reg was awarded an Incubator Bursary from Halsway Manor to support the development of the project – which Reg and the team were very grateful for – allowing them to meet at Halsway Manor in 2021 and to have an initial run through the songs together.
Halsway Manor is a registered charity that supports traditional folk arts and houses the Kennedy Grant Library, a nationally important collection of folklore, customs, music, dance and song, the second largest library of its type in the UK.
Crispian Cook, Chief Executive of Halsway says: 'We are very pleased to announce that Reg Meuross has received one of Halsway Manor's Incubator Bursaries. The bursaries are given to assist in the development of interesting and important new projects and Halsway is delighted to be working with Reg in 2021'.
As a recipient of an Incubator Bursary, Reg has had access to this great library, as well as a small grant towards the costs of research trips. Halsway Manor has also hosted a wonderful meeting of the four musicians where they were able to work on the songs together for a day.