RMS Titanic sank in the early morning of 15 April 1912 in the North Atlantic Ocean, four days into her maiden voyage from Southampton to New York City.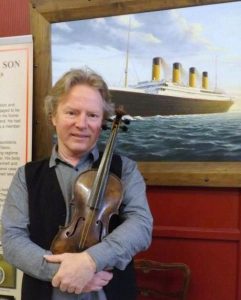 How could I have known when I opened up a crumpled newspaper in my log bin in 2013 and saw the story of the discovery of Wallace Hartley's violin that within two weeks I would be holding the very instrument that played the final song as the Titanic went down? As I sat in Aldridge's auction rooms with that precious instrument cradled in my arms and my new song playing on the house CD player, I felt a profound sense of the mixture of privilege and vulnerability that comes with being a musician. And I felt such tenderness for the man who played his final note and placed the violin gently into his case along with the mementos of home and loved ones, strapped it to his chest and leapt – to a certain death – into the icy water below. Those words 'The Band played on' must resonate with all of us at some time in our career. It somehow felt trite to allow myself the luxury of wondering what I would have done, so I didn't, I just treasured the moment and felt truly honoured."
"The Band Played Sweet Marie is a tender piano waltz about the violin bought by Maria Robinson for her fiancé Wallace Hartley, the bandleader of The Titanic who, according to legend, played her song as the ship went down." Mike Davies, Folk Radio UK
Reg Meuross Music's song 'The Band Played Sweet Marie' is captured here by Peter Simmonds at The Gate to Southwell Festival 2017.