Verdict: every song from the gentle, enchanting genius is worth its weight in gold. Just buy it!
I love and respect Reg Meuross for his crystal-clear honesty, his memorable hook-lines, his thought-provoking, quiet verses and his burning desire in taking on and pointing the accusing finger at the bullying corporate organisations, the avaricious money-lenders and the lying politicians.
Faraway People
is the second of his solo album trilogy, following on from his beautiful and deeply poetic
December.
He reminds me of that old Victorian hymn: "Speak through the earthquake, wind and fire, oh, still small voice of calm" – however, Reg's real armaments are his hard-hitting songs, each one eloquently filled with smoking anger and injustice.
He says the Tory dogma of austerity is a lie: "It's the way the Government justifies the constant shift of money, power, property and resources to the corporations, to the banks, the foreign landlords and investors, the chemical companies, and themselves. The only austerity is that which our own Government impose upon us for the sake of greed and power. We don't live in an age of austerity – the most expensive rental property in London will cost you £90,000 a week. We live in an age of arrogant greed and gross inequality."
Reg wrote the title track 'Faraway People' after studying the Hephaestus website, which included a long list of all the people who had died directly as a result of austerity measures, cuts to their benefits by ATOS or because of the bedroom tax. He says: "The names are real and just a tiny few of the many who have suffered." The Grenfell Tower fire outrage (when many lives were lost on account of the cheaper cladding, which saved the rich London Borough of Kensington and Chelsea £300,000 and was patently not fire-proof) came too late for the album, so Reg has added this verse while singing the song live: "They cut the police and they cut down the firemen / With the money they save they fill their own urns / The corporates thrive and their friends rise to power / While the food banks increase and the tower block burns." The toxic fall-out continues: London Mayor Sadiq Khan's decision to send in the commissioners, Tory leader Nick Paget-Brown's and chief executive officer Nicolas Holgate's resignation after being pressured to do so by Government communities secretary Sajid Javid, the revelation that a Grenfell fire victim was still being charged for council rent and a Tory councillor's scoffing that the erroneous deduction was "a tiny thing". The official death toll has been put at 80, but it keeps on inexorably shooting up.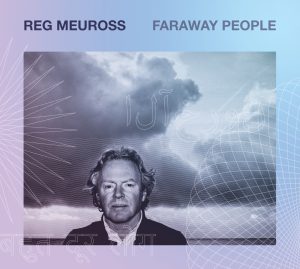 The writer, journalist and radio presenter Mike Davies offered to write the
Faraway People
sleeve notes, and he says: "The big picture is important, but sometimes you only get there via the small details. None of the names have been changed to protect the guilty, some you may recognise, others not, but all those mentioned in the lyrics have died as a direct result of the government's cuts to incapacity benefit. They are the faraway people, but they could be your neighbour. They could be your family. They could be you." And what of the Government's constant bungling and inflexible ineptitude? There's a very pungent quote from the BBC debate series,
Question Time
: "Theresa May couldn't negotiate herself out of a paper bag." Reg puts in the knife with a line from the title song: "The scandal of governments unfit to govern… you'll be unfit to work when you're dead."
Reg is not only a mesmeric singer-songwriter; he's a wonderful storyteller, too. He weaves his tales in this ancient venerable art, then polishes them up by composing the most captivating tunes you ever heard. He doesn't mince words – 'Angel In A Blue Dress' is his salute to the nursing profession, now battered and bruised by Government policies; 'The Lonesome Death Of Michael Brown' recounts the shooting of an unarmed black man by a white police officer on August 9, 2014; 'For Sophie (This Beautiful Day)' is his tribute to Sophie Scholl, daughter of a liberal politician and a student of Munich University, who was executed by guillotine with her brother Hans for distributing leaflets denouncing the Nazis' mass murder of Jews in 1943; 'New Brighton Girl' is a message of loving hope in a would where cynicism and despair seem to be the norm' and 'Cicero' is Reg's reworking of the eleven comments on occupations and social status, as pronounced in 43BC by the titular Roman philosopher. As Mike said, lawyers, doctors, politicians, bankers and the conscienceless rich might want to skip this one.
'Refugee' concerns Ahmad Al-Rashid, a Syrian Kurd and a former English Literature student, who fled Aleppo in the Syrian Civil War. He worked for the UN in Iraq's refugee camps, until the increasingly volatile situation caused him to flee again. His video footage, documenting his journey to the UK, became part of the award-winning BBC-2 documentary
Exodus
. He works for organisations advocating refugees' rights, and Reg invited him to give a talk. Out of that talk, this song was born.
Reg writes a plethora of absolutely stunning material, and included in the album is 'Leavin' Alabama' (the poet Dylan Thomas and country star Hank Williams, both hard drinkers, never met but died within a year of each other; this is an imaginary conversation between them) and 'Phil Ochs And Elvis Eating Lunch In Morrisons' Cafe' (a bizarre but true tale when Reg and Hank Wangford decided to visit a cafe. In walked an Elvis look-alike and, unbelievably, a character who was the spitting image of Ochs. Both sat down together at a table; you could not make this one up!) Verdict: every song from the gentle, enchanting genius is worth its weight in gold. Just buy it!
MICK TEMS – FOLK WALES