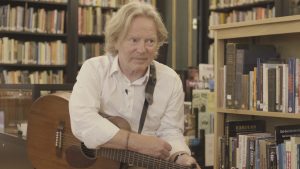 With a love of authentic songwriting, passionate people and out of the ordinary stuff it's no wonder that Antony Simpkins, founder of GemsOnVHS which is spearheading a new wave of DIY Americana on youtube, was immediately drawn to Reg Meuross when they met at a gig at The Old Stables Cricklade last summer.
They agreed to meet up at Cecil Sharp House in London the following week, and amongst the hallowed collections of Sharp's writings and notebooks in the  Vaughan William Memorial library, Antony filmed Reg performing three of his original songs. This is the first release, My Name Is London Town, which is a song from Reg's 2013 album Leaves & Feathers. "Reg Meuross is the truest sense of folk music. He writes songs about people, for people. That's what folk music is – the people's music. It tells our stories, it protests with us, it marches with us. In the early days we had legends like Woody, we had union songs and ballads. Now folk music is often relegated to a Spotify playlist for anything with an acoustic guitar, just another genre of music. If you know its history, though, it's so much more. It's a living, breathing movement, it's a snapshot of the here and the now, it gives voice to those who can't be heard." 
My Name Is London Town is one of Time Out's '100 best London songs' and is a series of snapshots in song reflecting Reg's own experience of living in the capital (he now lives in Somerset). The title was inspired by Woody Guthrie's My Name Is New York City
Reg Meuross is performing a very special concert, THIS IS REG, with support from Catty Pearson at Bush Hall in London on Thursday February 28th. Tickets HERE. He is also touring with new album 12 Silk Handkerchiefs, which relates in song and narration Hull's Triple Trawler disaster of 2968 and the ensuing uprising of the Headscarf Revolutionaries led by fighting fish wife Lillian Bilocca.
GemsOnVHS.com is an ongoing archive/collection of folk music that focuses on acoustic, unplugged and off-stage performance videos by a variety of musicians.
"A brilliant songwriter and true modern troubadour" says Mark Radcliffe. Somerset singer-songwriter Reg Meuross's appearances at art centres, music clubs and festivals the length and breadth of the UK as well as abroad (South Africa, Australia, New Zealand, USA, Spain and Portugal) and an award winning catalogue of highly acclaimed albums, have established Reg's songs as "the hinges upon which swing the doors of perceptive English folk" (Folkwords).
Reg first emerged onto the acoustic music scene in the 1980s with The fast paced duo Panic Brothers, and has, over the years of touring and playing solo as well as with many other acclaimed artists, developed a style that as Pete Townshend says "allows the listener to embrace the whole breadth of his work over many years without distraction… he sings in the neutral accent of an Englishman who travels the entirety of the British Isles, and tastes all its flavours, influenced by all its most profound national colours. In this he reminds one of Roy Harper or Ewan McColl, recent greats who went before him." 
He then went on to form the band The Flamingos which featured ex Graham Parker guitarist Martin Belmont, Bob Loveday from The Penguin Cafe Orchestra & Bob Geldof's Band & Alison Jones of The Barely Works. In 1996 Reg decided to go solo, and his catalogue of 13 albums includes story songs which bring otherwise forgotten characters from history to life, songs of protest shining light on issues which should not be left in the dark, alongside some of the most heart-achingly beautiful love songs ever written, performed with depth and spellbinding delivery.
Reg has that rare gift of being able to touch people through his songs and performance, on a really human level. His words and music paint pictures that remain with the listener long after the song has been sung.
"One of the most talented storytellers of our generation" Pennyblack Music
"Every song from the gentle genius is worth its weight in gold" David Kidman, Fatea Magazine
"There's something special about the way he writes and delivers a song" Townes Van Zandt.
"Powerful and moving songwriting" The Telegraph
"A mighty songwriter and an equally fine singer" Martin Carthy