On Saturday 6th April 2019 I'm performing live at St Mary The Virgin Church, Bottesford. Proceeds will be donated to the Food Bank. 
TICKETS HERE
.
I have a special link to this church.
When I was very young my parents rented a semi detached cottage in Bramshill, Berkshire without gas, electric or running water. Our solitary neighbour was Marcus Paul Dare. Paul – as he was known to us – was unusual to say the least! His clothes were theatrical, and his house full of the most fascinating and exotic things, including a human skeleton. My only youthful memory of him was when I was attacked by a dog which almost took my ear off. When I returned from hospital Paul took me into his house and made food for me in case I was hungry and he made me a small stool for when I needed to sit down. I remember the police coming to take him away. I thought at the time it was because he had some silverware that didn't belong to him but found out later it was more likely to be books.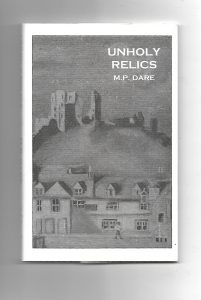 Paul was a journalist, a writer of ghost stories, an occultist, an historian, a transvestite, a lover of churches and Leicestershire in particular. In his
papers that came to me after his suicide in 1962, I learned so much more about his research into the history of Leicestershire, of the Knights Templars and Richard DeBellis. In the 1997 I was contacted by The Ash Tree Press, a Canadian publishing company specialising in M.R. James style literature, Ghost Stories. And they were asking me for permission to reprint Paul's collection of stories, Unholy Relics. Until this point I had no idea Paul had left the rights of his work to me. Of course I gave my permission on the condition that I could write the introduction to the reprint. The research involved led me on a fascinating journey through the history of this clever and fascinating man.
M P Dare Unholy Relics and other uncanny tales Ash Tree Press, Ashcroft British Columbia 1997 ISBN: 1 – 899562-23-0
During my research I came across Paul's church guide "The Story of THE CHURCH OF ST MARY THE VIRGIN BOTTESFORD and its monuments". When I saw that this small book had gone to many editions, possibly Paul's most successful work in print! I must confess my first thought was I wonder if I'm owed any royalties!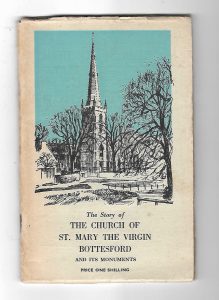 The back jacket of the book announces the existence of a further 300 similar church histories in print, but I doubt any include anything as sensational or lurid as Paul's re-telling of the story of The Witches of Belvoir.
Reg Meuross March 2019 Crewkerne, Somerset