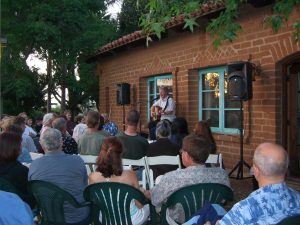 I have played many house concerts here in the UK, in America and in Australia. Now that the summer is coming this can extend to patio and garden. The relaxed and informal atmosphere of these events make it a special occasion for both audience and performer.
These can be completely bespoke, with a set list made up from your requests from my various albums (with enough notice) or you can leave it to me to make a set list appropriate for your occasion.
The fee is negotiable, based entirely on how many people you feel you can get into your room comfortably (and the cost of petrol getting to you). Sometimes the host will pay my fee (if it's a birthday/anniversary) or you can charge your friends a set ticket price or work on a suggested donation basis of around £10-15.00 per head.
Food and drink is normally brought by the audience on a 'pot luck' system, whereby each dish and/or bottle is added to a buffet and people are invited to share. You could just limit this to the food and say BYO drinks, or you could cater, all depends on your budget.
It's a great way of you seeing an artist you want to see, where and when you want to see them (me!) you also get to choose a whole audience of people you like, and who you know will appreciate the music and the sharing of the experience with you
We are happy to help you create the perfect evening's entertainment. Step One is to email us  HERE and we will work with you to provide a great concert in your own home.