SONGS ABOUT A TRAIN – 3 Album Launches
2 February Bridport Town Hall TICKETS 
14 February The Old Cinema Launderette, Durham TICKETS
1 March Green Note London TICKETS
Some songs don't stay still long enough and scamper off, some are dazzled by the dragonfly's gleam. Some songs are right books put on the wrong shelves." Stephen Jordan (1957-2015)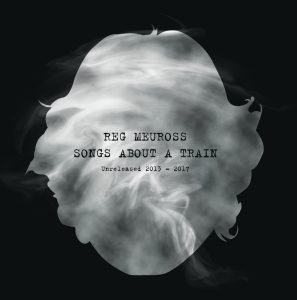 In 2011 Stephen Jordan, the Head Librarian at The Bodleian Music Library in Oxford, approached Reg with the idea of commissioning a compilation of unreleased material. After a cursory search down the back of the sofa Reg managed to find 20 songs that he had recorded to various stages of completion between 2006 and 2011 but which had failed to make the final cut.onto albums. Stephen reduced the list to 13 and the result was the signed limited edition album, The Dreamed And The Drowned, which received some of the best review of Reg's career.
Now, with two successful solo albums under his belt (December and Faraway People) on top of several previous acclaimed releases, with the third on the way to complete the planned trilogy, and also as a nod in honour and appreciation of his good friend Stephen, who died tragically in 2015, Reg felt it would be a good time to have a scratch around and see what else may have been overlooked. The resulting album Songs About A Train is another limited, signed release comprising 11 songs recorded by Reg between 2013 and 2017. Release date February 2 2018 (via Proper Records).
Songs About A Train is less political than Faraway People, but still profound in its messages which will touch people on a really human level. His words and music paint pictures that remain with the listener long after the song has been sung. The Angel Maker is the story of Amelia Dyer 1837 – 1896 of Bristol, probably the most prolific serial killer of all time, thought to have murdered up to 400 children for which she was hanged in 1896. Martin is a song celebrating St Martin who was a Roman soldier who renounced wealth and status to promote peace and charity and famously depicted cutting his cloak in half to clothe a freezing beggar. He later saw Jesus wearing the same cloak in a vision after which he dedicated his life to the care of others less fortunate.
"One of the most talented storytellers of our generation" Pennyblack Music
"Powerful and moving songwriting" Martin Chilton, The Telegraph
"A mighty songwriter and an equally fine singer" Martin Carthy
Reg will be touring with this album, plus previous release 
Faraway People,
 throughout the first half of 2018 in the 
TWO ALBUMS TOUR. TOUR INFO
regmeuross.com