Songs of Love & Death is the new collaborative album from two of this country's finest and most engaging folk/acoustic acts: Reg Meuross and Harbottle & Jonas. The album is available HERE and the first live tour begins in March. See below.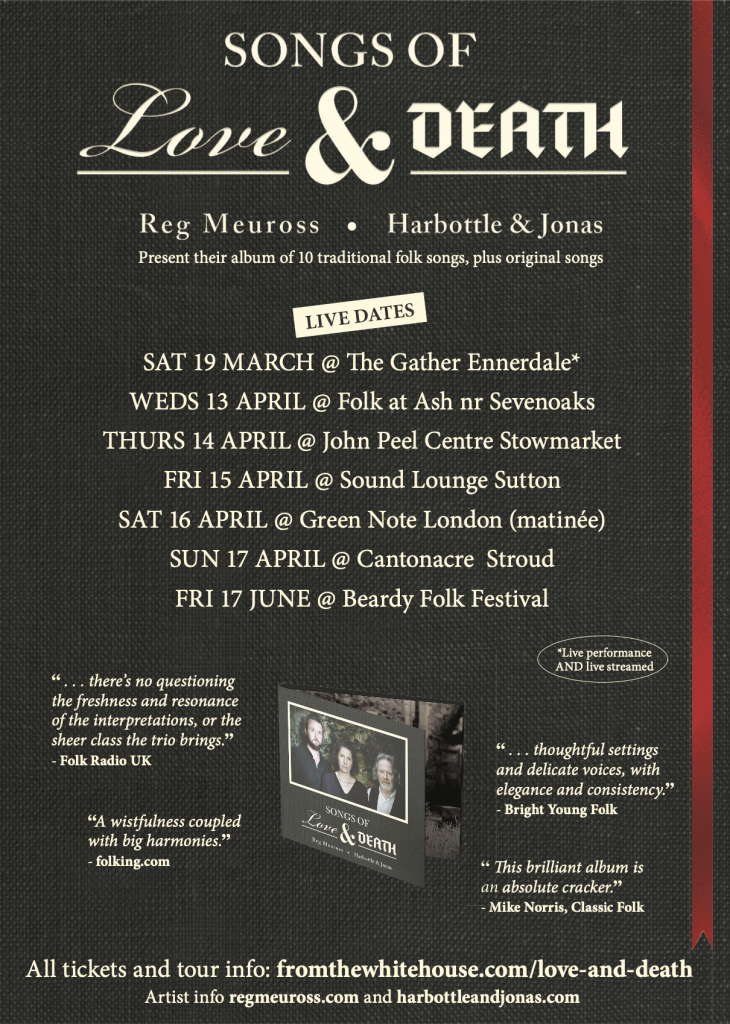 photos: Rachel Snowdon, cover art Joey Meuross
CLICK HERE FOR ALL TICKET LINKS
Born from a remote collaboration for Harbottle & Jones's highly successful (400,000 views and counting!) #savingthegoodstuff video series, Songs of Love & Death has now evolved into a stark yet beautiful album of traditional songs.
Described as "a mighty songwriter" by Martin Carthy, Reg Meuross has been a constant presence in the nation's folk clubs and venues throughout his thirty-year career.

With thirteen solo albums to his name, songs such as 'England Green & England Grey' and 'And Jesus Wept' have entered the modern folk canon, but, until now, he has never delved into the traditional songs that have so influenced his writing.

"Over the years I have played with some of the finest folk musicians in Britain. Karen Tweed, Phil Beer, Jackie Oates, Martin Carthy etc yet I had never considered doing an album of traditional songs before, but during lockdown I began to look more closely at the songs of these islands, songs that were ever-present at clubs where I played" Reg explains.

"Songs I knew in my breath and my blood like they were in my DNA. Although these songs inhabited me, I realised I'd never inhabited them and I took the chance to explore, eventually settling on ten songs, and the idea of recording an album started to form in my mind.

When I got the call from Harbottle & Jonas asking if I was interested in a collaboration, my first thought was one of my favourite folk songs, Lord Franklin, which I'd loved since hearing John Renbourn's version when I was 15 or so and first learning to play guitar. I loved what we did together so much that we decided to continue work on all ten songs."

Harbottle & Jonas, husband and wife duo David and Freya, are "one of the finest folk duos in the country" according to Folking.com, and have made an impressive mark on the UK's folk and roots scene in a short period of time.
Their most recent album The Beacon was written and recorded (as a trio album with fiddle player Annie Baylis) at home during the summer of 2020 and heralded as "magnificent" by Folkradio.co.uk. They have made appearances at the legendary Sidmouth Folk Week, were chosen to take part in Global Music Match 2020 by English Folk Expo, and were invited to participate in the 2020 Folk Alliance International Showcase.
Matching Reg's talent for conveying the true meaning behind a song in his delivery, with David and Freya's exceptional arrangement and accompaniment skills, Songs of Love & Death tackles some of the most enduring songs from the English tradition, beautifully recorded by Josh Best-Shaw in a 15th Century church that sits on the edge of Dartmoor.

David, Freya, and Reg are so proud of these recordings, and with your help they believe they can release something wonderful and special that will make a mark in the folk landscape that is truly lasting. Please pre order the album HERE.

The songs:
She Moved Through The Fair
Barbary Allen
Lord Randall
Lord Frankin
Oxford Girl
As I Roved Out
I Wish The Wars Were All Over
Adieu Sweet Lovely Nancy
Anachie Gordon
The Trees They Do Grow High
Many thanks from Reg, Freya and David