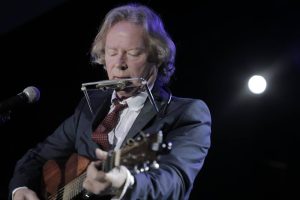 I had a fantastic gig at The Great British Folk Festival at Butlins in Skegness. Thanks to a great organisation and to all those who came to see me and shared 45 minutes of musical embraces, and especially those who kept me selling CDs for a further 45 minutes!. As you can see from Jordan Russell's excellent photos, Skegness is indeed bracing! FULL NEWSLETTER HERE
Still four lovely gigs to go before 2017 is out. I hope to see some of you in Oldham where I'm playing a double header with wonderful Flossie Malavialle, Birmingham, supported by the excellent Edd Donovan, then over to the English Folk Club in Alicante (where it might be a bit warmer than Skegness) or my grand finale of the year at Crewkerne, joined by Phil Beer and very special guest, Geoff Lakeman.
FINAL GIGS OF 2017  
December 8th Playhouse 2, Oldham, with Flossie Malavialle
December 10th Kitchen Garden Cafe, Birmingham with Edd Donovan and the Wandering Moles
December 12th Costa Blanca Folk Club, Spain
December 15th Midwinter Concert with Phil Beer and special guest Geoff Lakeman Crewkerne, Somerset
Please spread the word if you have friends in the right places.
My next album Songs About A Train will be officially released on February 2nd 2018. Thanks for all your special pre-Christmas pre-orders. They should be with you already, or very soon. Keep them coming. So I will be touring the first half of 2018 with Faraway People and Songs About A Train. I'm calling it the Two Album Tour 2018 (see dates below).
Also I've been happily co-writing songs with Seth Lakeman for a forthcoming album, and have written a song-cycle '12 Silk Handkerchiefs' which I will tour with in 2018. The songs are inspired by Brian W Lavery's book The Headscarf Revolutionaries, about The Hull Triple Trawler Disaster in 1968 which sparked a fishwives' uprising, spearheaded by Lilian Bilocca, that took on the Establishment and won.
So plenty of exciting things in store for next year. Thanks as ever for all your support, wherever you are.
Love
Reg x