Description
STILL (original release 2008 – re release Hatsongs HAT016 2019)
Features 12 original songs by Reg and a cover version of the Tim Buckley song, 'Morning Glory'.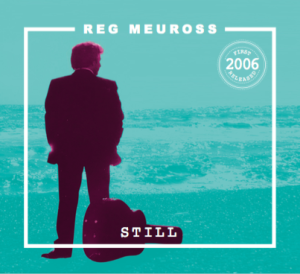 Songs
MY NIRVANA
DOWN TO THE RIVER
THE MAN IN EDWARD HOPPER'S BAR
DAYS LIKE THESE
ALL I WANT
DON'T GIVE UP
SOMETHING NEW
I'LL COME BACK
DOYOU REALLY WANT MY LOVE
HOW MANY DAYS
THE POACHER
MORNING GLORY*
IT'S ME OR ELVIS
Recorded by Mark Tucker in Devon, Roy Dodds in London & Reg. Mastered by John Dent in Taunton
All songs by Reg Meuross published by BMG except * by Larry Beckett & Tim Buckley Carlin Music Corps
Original photo by Joey Meuross. New cover design by LeftBridge.
VOCALS, ACOUSTIC GUITAR, DULCIMER, HARMONICA: Reg
KEYBOARDS: John Rabbit Bundrick
DOUBLE BASS & HARMONY VOCALS: Miranda Sykes
DRUMS & PERCUSSION: Roy Dodds
ACCORDION & FLUTE: Sarah Allen
ACOUSTIC GUITAR ON The Poacher: Martin Carthy
ACOUSTIC GUITAR AND VIOLIN: Phil Beer
VIOLIN: Lucy Saunt
CELLO: Sally Glanvill