Six titles from Reg Meuross's back catalogue of albums which had been out of print for a while are being officially re released via Proper Records on Friday December 4th 2020.
The re-issued titles are The Goodbye Hat (1996), Short Stories (2004), Still (2006), Dragonfly (2008), All This Longing (2010) and Leaves & Feathers (2013). New cover artwork brings this 'retro' collection together beautifully as a set.
1. The Goodbye Hat 1996 (Reissue – HATSONGS HAT014 2020)
The Goodbye Hat was originally released in 1996, and was Reg Meuross's first solo album.
The breadth and depth of Reg Meuross' material is now unparalleled in contemporary folk; if something needs to be sung about then Reg Meuross has a song for it.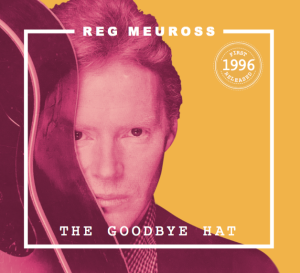 Critically acclaimed upon its release, now available on CD and download after several years of being out of print, The Goodbye Hat marked the beginning of a solo career that has produced 13 albums to date, including RAW released in 2019. FULL ALBUM INFORMATION HERE
TRACKS
ONE LAST TIME
THE GOODBYE HAT
SHE MARRIED THAT MAN
SEND ME AN ANGEL
MORE THAN I CAN SAY
RING AROUND THE ROSES
THE WEDDING DRESS *
HOUSE OF PAIN
TUESDAY
DON'T LET THE LIGHTS GO OUT ON ME
THE BLUE PARADE
PRETTY BLUE EYES
THE PRISONER'S SONG
SHE FELL DOWN THE STAIRS
BIG WHEELS
DRUMS & PERCUSSION: Pete Thomas, BASS GUITAR: Paul Riley, Pete Thomas, Kevin Foster, Richard Allen, Neil Brockbank, ELECTRIC GUITAR: Martin Belmont, Clive Gregson, KEYBOARDS: John Rabbit Bundrick, Geraint Watkins, James Compton, ACOUSTIC GUITARS Reg & Martin Belmont, BANJO: Reg & Chris Thompson, VOCALS: Reg, UILEANN PIPES: Stefan Hannigan, FIDDLE: Sinead Jones, Alison Jones
*Co write with Charlie Dore
2. Short Stories (Reissue – HATSONGS HAT15 2020)
Short Stories was originally released in 2004.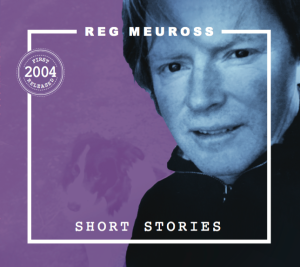 After a period of time spent touring, moving to the West Country, and raising a family, Reg Meuross returned to the studio to record Short Stories with some of the country's best roots musicians, including Miranda Sykes (Show of Hands) on double bass and backing vocals. MORE INFO HERE
TRACKS:
YOU LEFT ME CRYING
WORRY NO MORE
AND THEY DANCED
JEALOUS
GOOD WITH HIS HANDS
ON ROSLYN BANKS
YOUR FACE AGAIN
MAN IN THE MOON
JUST LIKE AN ANGEL
WHEREVER YOU GO
WALKING TO THE LIGHT
THE PRIEST'S LETTER
BACK DOOR MAN
HOME
Recorded by Roy Dodds & Stefan Hannigan in London and Wolverton. Mastered by Jason Mitchell in Taunton.

Photo by Reg. New cover design LeftBridge.
3. Still (Reissue HATSONGS 016)
Still was originally released in 2006.
12 original songs by Reg and a cover version of the Tim Buckley song, 'Morning Glory'.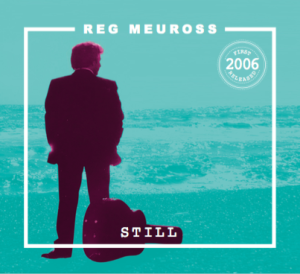 Featuring 12 original songs and, somewhat of a rarity in Reg's catalogue, a cover version of the Tim Buckley song Morning Glory, Still features folk legends Martin Carthy (guitar on The Poacher), Phil Beer (guitar & violin) and Miranda Sykes (double bass & harmony vocals) MORE INFO
TRACKS
MY NIRVANA
DOWN TO THE RIVER
THE MAN IN EDWARD HOPPER'S BAR
DAYS LIKE THESE
ALL I WANT
DON'T GIVE UP
SOMETHING NEW
I'LL COME BACK
DO YOU REALLY WANT MY LOVE
HOW MANY DAYS
THE POACHER
MORNING GLORY*
IT'S ME OR ELVIS
Recorded by Mark Tucker in Devon, Roy Dodds in London & Reg. Mastered by John Dent in Taunton
All songs by Reg Meuross published by BMG except * by Larry Beckett & Tim Buckley Carlin Music Corps
Original photo by Joey Meuross. New cover design by LeftBridge.
Dragonfly (Reissue HATSONGS HAT017 2020)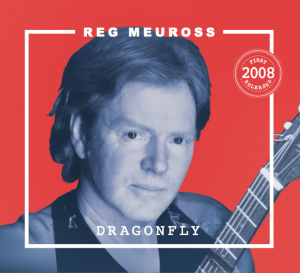 Dragonfly was originally released in 2008.
Featuring several of Reg's most well known songs including 'And Jesus Wept' (performed by Reg at The Royal Albert Hall) and the epic retelling of the true story of notorious highwayman Dick Turpin 'Lizzie Loved a Highwayman' Dragonfly was the first release on Hat Records, Reg's own imprint.
TRACKS
FOOL'S GOLD
WITHOUT LOVE
THE SOUND OF HALLELUJAHS
DRAGONFLY
UNTIL I HOLD YOU ONCE AGAIN
LIZZIE LOVED A HIGHWAYMAN
VALENTINE
AND JESUS WEPT
SINGAWAY
MARTHA WENT DOWN TO THE WELL
THE PRIEST
BIRMINGHAM HOTEL
WILLIAM BREWSTER DREAMS OF AMERICA
I'LL FLY AWAY
Recorded by Roy Dodds in London Mastered by Mark Tucker
All songs by Reg Meuross published by BMG except 'I'll Fly Away' trad arr published by AE Brumley
Original photo by Trevor Leighton. New cover design LeftBridge.
All This Longing (Reissue HATSONGS HAT018 2020)
All This Longing was originally released in 2010.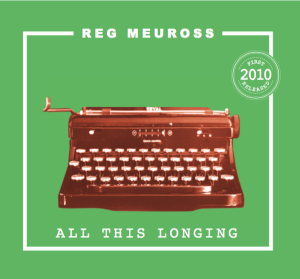 An all acoustic album featuring an astounding collection of musicians including the award winning fiddler, Jackie Oates, Paul Sartin (Bellowhead) on oboe, Andy Cutting on accordion and beautifully underpinned by the original Fairground Attraction rhythm section of Roy Dodds on percussion and Simon Edwards on bass.
TRACKS
ANGELINA'S COMING HOME
THE HEART OF ANN LEE
LOOKING FOR JOHNNIE RAY
FOR THE SEEDS OF LOVE
THE DROVERS' ROAD
THE SHORELINE AND THE SEA
IF I SHOULD FALL FROM YOU
THE REDCLIFFE BOY
SHADOWS ON THE WALL
VICTOR JARA
THE BITTER WIND
SAIL AWAY NO MORE
All songs by Reg Meuross, published by BMG International
Recorded by Roy Dodds in London. Original photo Michael Moore. New cover design LeftBridge.
VOCALS GUITARS KEYBOARDS HARMONICA DULCIMER: Reg Meuross
DRUMS & PERCUSSION: Roy Dodd
BASS & DOUBLE BASS: simon Edwards
CELLO: Bethany Porter
VIOLA & STRING ARRANGEMENTS: Jackie Oates
OBOE & VIOLIN: Paul Sartin
ACCORDION: Andy Cutting
VOCALS: Vashti Anna
Leaves & Feathers (Reissue 2013 HATSONGS HAT 019)
Newly reissued for 2020, Leaves & Feathers was originally released in 2013.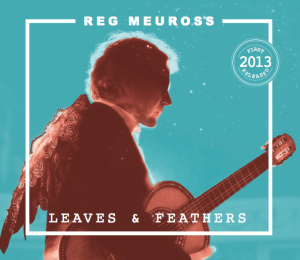 Invited by the world famous Abbey Road Studios to record in their facilities, Leaves & Feathers features twelve songs recorded in the legendary Studios 1 & 2. A solo record at heart, the album also features Reg's daughter Lily and Jess Vincent on backing vocals and Beth Porter on cello, and contains the modern classic My Name is London Town.
Reissued as part of a six album retrospective comprising The Goodbye Hat, Short Stories, Still, Dragonfly, All This Longing, and Leaves & Feathers that catalogues Meuross's development over 25 years into one of England's finest and most respected contemporary folk-singers.
TRACKS
ONE WAY TICKET TO LOUISE
I SAW A WOMAN
MY JERUSALEM
I AM THE HOUSE
I NEED YOU
IF YOU WANNA BE MINE
WEARY JANE
ALL I REALLY WANT
MY NAME IS LONDON TOWN
EMILY'S PAGES
ONE COLD APRIL MORNING
COME BACK TO ME
Recorded at Abbey Road Studios by Seb Truman and Roy Dodds in London
All songs by Reg Meuross published by BMG International
Original photo PJ Millson. New cover design Left Bridge.
VOCALS, GUITARS, BANJO DULCIMER HARMONICA: Reg Meuross
CELLO: Bethany Porter
VOCALS: Lily Meuross Bethany Porter Jess Vincent